Contributor: Brandon Bell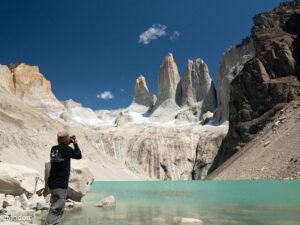 I am a man in his mid-forties who has spent the last 15 years coming to terms with the environmental crisis. At this stage of life, the scale and complexity of the problem, combined with a couple of replacement body parts, led me to a mid-life crisis.
What do I want to be when I grow up?
What do I want for future generations when they grow up?
How do I positively contribute to the world? (and afford to live)
When searching for answers to those questions, it seemed they lingered down a dark alley. I don't want to risk one of my last 9 lives going down. So sod looking, I will jump onto a bike and look for answers on the way…. But to where?
What region has examples of everything climate change can throw at humanity?
Where can I cycle that's a challenge without killing myself on my first significant bike adventure?
Where and what would be an inspiring story we can share with young people?
PATAGONIA – The Carretera Austral
Unlike Bruce Chatwin, author of the famous 'In Patagonia,' I didn't travel to South America last year inspired by a piece of brontosaurus skin, I would like to say I chose Patagonia, but honestly, it chose me back in 2009 when I first glimpsed the Black Glacier near Bariloche (an idyllic Swiss chocolate town) with condors soaring overhead.
The region of Patagonia covers both southern Argentina and Chile for a mere 1,060,600 sq. km. It is approximately 3,000 km in length (it's the pointy bit directing you to Antarctica), and it has everything from mountains (Andes), oceans, fjords that rival Norway's, rain & temperate forests, glaciers, deserts, and vast amounts of flora and fauna…and much more. This is a great resource for typing together the natural wonders on the Chilean side: Route of Parks of Patagonia.
Patagonia is truly a region on the front line of climate and biodiversity loss, suffering from most of the plights of humanity and nature. It would give me a broader and more vivid perspective of our planet's challenges –  it didn't disappoint.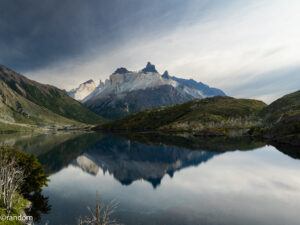 My initial thoughts were to bumble along, meet people and discuss the environmental challenges they are facing. Thanks to travel journalist and Lonely Planet author Mark Johanson's suggestion to read 'In Patagonia.' Bruce's book is a historical travel guide. I changed my tack. I felt this writing style whilst great, was a privileged Western perspective of Patagonia. The 'Think Global Act Local' mantra had resonated with me since I started my journey, and I didn't want to be just another middle-aged white man narrating the challenges of communities living in these remote locations.
This begged the question: 'How can we support new generations of environmental storytellers in the communities visited?'
Next Generation of Environmental Storytellers
Inspired by a recent visit to the Wildscreen Festival.org, and with help from numerous people organisations, and in partnership with MPB.com (traders of second life camera equipment), I delivered cameras to a few schools and universities in Patagonia (Chile and Argentina) so that homegrown talent could share their stories of challenges and action with the world (and hopefully introduce them to the Warmshowers community).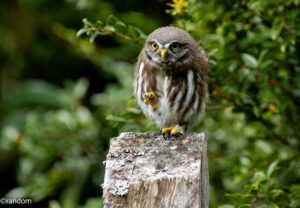 In the last 30 years, Patagonia has been going through a massive transition. Big business has been buying up ranches and clearing forests and scrub for sheep and cattle grazing, leading to the increase of desertification, then combining this with the hunting of apex predators to protect the livestock. To counter this, Patagonia has also witnessed some genuinely ambitious rewilding schemes trying to rectify the damage done (check out Nat Geo's Wild Life). These incredible schemes, I understand, have come under some resistance from locals as they feel that rewilding replaces ranching jobs. However, in my discussions, I witnessed younger generations embracing this eco-change and the increase of ecotourism starting to help support this transition. Please make sure you big up the ecotourism when you visit!!
What to expect on the road
It was an incredible adventure: the scenery, the wildlife, the people, and the blissful serenity. Words do not do it justice, and my photos only scratch the surface…
I did this trip solo with a few mishaps, which relied upon the kindness of the locals (which I will share with you on the Warmshowers trip planning – check out halo emoji's on the map). However, some tour organisations will supply bikes, carry your stuff and arrange accommodation to make it that much easier.
The Route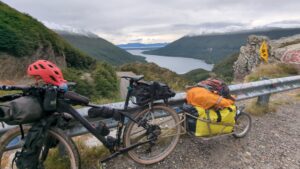 I have been trying out this new mapping software from Felt.com. We are testing it to see if we can get all our rewilding contributors to add their efforts… What do you think? Please have a play with my route HERE.
I am so glad I chose to battle the rain and cycle. The Chilean side of Patagonia is exceptional. The Argentinian side is stunning in locations, and much drier has pampas as far as the eye can see, which can get boring.
It's not all roses.
It can be tricky!  Certain sections are more challenging than others, but expect it to be:
Hot. The first week was 35+ degrees. The climb from Bariloche to El Bolson led to a dose of heatstroke. This found me lying under trees, shaking, soaking clothing in ice-cold water from the mountain stream until I recovered. This area suffered a series of severe forest fires, which has witnessed the local university leading the charge with a native rewilding project. I will share links to their mission later.
Dusty: Heading into Chile was windy with dust devils trapped between the mountain and the water, leaving you nowhere to escape.
Wet: is an understatement. It rained for two weeks, and I saw myself snap the axle on my trailer.
Windy: especially in the South (Below Punta Arenas). According to the textbooks, I was heading North to South, so the wind was with me. I waited and waited, but alas, the wind was generally head-on or mostly side-on, which at least allowed me to tack with the bike.
Bouncy: The ripio ensured that no screw or bolt did not come undone at some point. Screws on equipment in my bag came loose, water bottle lids, and maybe a few ribs.
Dogs: I was chased about seven times. Lessons learned: I convinced myself that swearing at dogs in Spanish helped save me (this didn't help with youth-friendly content creation), they seemed to attack the trailer, not me, and get a rabies jab for the next trip.
Trucks & Cars: In order of politeness on these remote, rough roads –
Group 1: Uber polite – Military, Police, Motorcyclists –
Group 2: You are a speed bump – road workers, tourists (the nicer the car, generally the more ignorant)
What a trip, and all I can say now is… bring on the next cycle adventure. I have created more detailed Blogs HERE, or if you need a quick hit, here are more images on Instagram @randomactofnature.
Support the next generation of nature lovers.
I hope you enjoyed the blog, and if so, please can I request you to reach out to your local school, university, or even community group and get them to join the world's biggest mini-rewilding project so more young people get hands-on experience of rewilding and a greater understanding of why biodiversity is SO IMPORTANT.
Find some project resources that you or your community can use HERE.
Join me…
Raise awareness and money for your community project, and join me for a section of the next adventure. Thanks for reading!