Turkey
Shortly before noon, I arrived in the small mountain village of Camardi (pronounced "chah MAR duh") nuzzled deep in the protective arms of Aladaglar National Park in Turkey. The name "ala-daglar" (crimson-mountains) comes from the rusty color of its hills in the sunset.  This region is known as the "Alps of Turkey", home to the tallest mountains of the Central Taurus Mountain region, including gaudy peaks such as Demirkazik (12,322 ft) and Kizilkaya (12,372 ft). These sinister snow capped spears explode out of the emerald green fields laced with newly blossoming apple trees, threatening to tear a hole in the crystal clear blue sky.
It is April, and springtime in the mountains always translates into unpredictable weather. Over the imposing ice capped peak of Demirkazik, wrathful grey clouds were gathering. There was a storm brewing and at this altitude, bringing with it the likelihood of snow. After scoffing down 2 Turkish doners, I asked the restaurant owner if he knew a place where I could sleep for the night. In thus far typical Turkish hospitality, he abruptly grabbed my arm, walked me across the dusty street, leaving my bike behind ("No problem," he waved to me regarding the security of my bike) and handed me off to a man with his hands full, carrying supplies to the shop he owned. Isa was 46, about 5'7" with a sturdy build, strong jaw line, and a firm handshake. He spoke with very rudimentary English (which was still far better than my Turkish) but underneath this chiseled exterior lied a warm smile that quickly put me at ease.
Evidently, I was now with the mayor of Camardi and Isa proudly introduced as his friend to everyone that approached, each time with a beaming smile, some quick words, and a traditional Turkish handshake. It's similar to France but instead of a kiss on alternate cheeks, men tap the opposite sides of their heads together – right temple to right temple then left temple to left temple. It conveys a true kindness.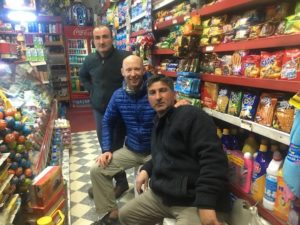 Isa owns a small shop that is no more unique than any of the other small shops I have seen throughout Turkey. He sells soda, nuts, tahina, sweets, biscuits, cigarettes, and the rest of the other common staples in Turkey. The shop is maybe 100 sf with every inch, floor to ceiling, strategically optimized, with a space on the wall for a TV that is blaring Champion's League football highlights. "Cay?" inquired Isa. "Yes!" I beamed, realizing that it's only my 3rd tea of the day. Tea is a customary shared experience in Turkey – meals, meetings, or just simple social engagements – everything starts and ends with a tea. Isa puts a piece of wood in the small metal box which functions as his heating source and hands me my hot beverage. I can see the storm imminently invading this small valley as the temperature begins to plummet. "You know Warm Showers?" Isa inquires, as I still did not know where I was sleeping this evening. "Yes!" I excitedly responded back, my face still caked with salt from the 3000 ft battle to reach Camardi. It turns out, Isa was a host and eager to share his home with me.
After dinner and the usual charades, Isa showed me to my room, complete with a hot shower.   It was 38F outside, as I drifted off to sleep while listening to the raging storm, angrily rattling the single pane windows and lashing buckets of rain down, thankful that I was in a dry, yet unheated room, instead of caught on a mountain pass.
Why Do You Travel?
"Why do you travel?" I was asked by Isa, and so many other people that I have met over the past 3 years on the road. "Is it for the beauty?" "YES!" I beamed.  "And this is the beauty," I replied, with no attempt to mask my passion. Sure, the mountains that I cross are inspiring, but it's this. Three years ago I identified something that I began calling the human experience. It has been the primary driving ambition for my travels and it pertains to the simple and routine interactions with people that I have met along the way.  I have been curious to see if this fundamental kindness that was offered to me in countless situations was a common inherent thread that transcended country borders or rather just something unique to a certain region. What I found was that in each place I have been, I have been met with a genuine kindness and generosity, without ulterior motivation, but rather just because.  And thus far, Turkey has been no different.
Growing up in rural Michigan, I never really explored anywhere outside my own small farm town, so in many ways, it's shocking for me to think that I'm now traveling through my 20th country on a bike. When I did grow up and left Michigan, the toughest question I always had in a job interview was: "Where do you see yourself in 5 years?" Five years??? I always struggled to fabricate some optimistic goal-oriented response to convey that I knew exactly what I wanted and where I was going in order to satisfy the interviewer's assessment that I was worthy.  I don't know if I ever fooled anybody, and to this day, I still don't think I have the road map. Truth: some days I don't know where I see myself next week. Fortunately, there is no job interview of life, so unlike the regular pressures that society demands that we have it all figured out, I still don't feel the need to fabricate that answer.
Instead, I've learned that even though we may have a map, life is unscripted.  True adventure and reward lies somewhere at the intersection of fear and control.  So maybe the point of all this is simply to admit that we don't have a plan and fold up the map, put it away, and simply go see what's over that next hill.
Author: Jerry Kopack