Contributor: Rhonda Oshanek
Want to go on a 16-day bike-packing trip even though you've never done anything like this before? Sure, why not, I said!
Cycling is my main form of fun and exercise, but I had never loaded up my bike and gone on a multi-day trip despite there being a world-class offroad trail almost in my backyard. The Munda Biddi Trail starts in the hills just east of Perth, Western Australia, and meanders for about 1040 km to end up in Albany on the south coast. I'd heard all sorts of tales of woe about riders suffering through sections of soft pea gravel and sand and pushing their bikes up gruelling hills, so I was a little intimidated when I committed to riding it end-to-end. To prepare, I trained for several months, riding six days a week, with at least one of those rides being 5+ hours. Finally, with loaded mountain bikes, we set out in mid-October 2021 to find out what all the fuss (fun?) was about.
"Munda Biddi," in the local Aboriginal language, means path through the forest. It winds through beautiful forests for the most part, with some farmland and coastal sections, via minor gravel and dirt roads and single track. Very little is on paved roads. You rarely see cars. It turned out that there wasn't very much soft pea gravel or sand in October! Most of the surface is of excellent quality and suits riders with beginner mountain biking skills and above.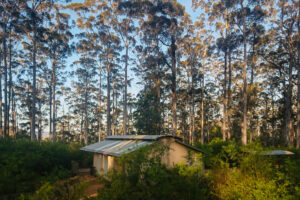 The not-for-profit Munda Biddi Trail Foundation manages the Munda Biddi Trail. They maintain twelve free huts for riders to stay at, continually improve the trail, and they coordinate an army of volunteers who remove fallen trees and prevent the forest from encroaching on the trail.
The trail passes through lots of accommodation in small and medium country towns, including 9 Warmshowers hosts along the trail and a further 30 hosts in the Perth region. My husband Paul and I mixed it up, staying four nights in huts and the rest in accommodation. Every town had a pub and/or grocery store, so stocking up on food and drink was pretty straightforward, and we never had to carry more than two days' worth of food. Each hut has rainwater tanks, so water is available most of the year.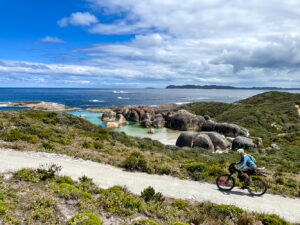 We set out with hard-tail mountain bikes loaded up with camping gear, cooking equipment, clothes, and all the other odds and ends we'd need for a 2-week tour. We soon settled into a nice rhythm—waking, eating, riding, eating, riding, eating, and sleeping. What a wonderful way to turn off from the stresses of the world. As it was spring, the flowers were stunning, with constant splashes of colour, interesting plants, and big trees to stop and photograph. It turns out that it wasn't riding the occasional patch of pea gravel or hills that slowed us down, but the constant stopping of the two photographers! And as a bonus, I found the daily distances of between 50 and 90 km to be perfectly do-able, complete with lots of breaks and finishing times usually around 2.30 pm.
Other highlights were the people we met every day—some were having a go on their first end-to-end like me, others were trying out an overnighter or a long weekend, and others were completing their 3rd, 4th, or 5th end-to-end adventure. Some were on old, rusty, rickety bikes, while others were on flash gravel bikes and were racing end-to-end in 6 days. We rode excellent-quality mountain bikes with 2.3-inch knobby tires, and we completed the journey in 15 days, with minimal trouble with the pea gravel or sand. The people in the towns, pubs, cafes, and accommodation were all super friendly, as was a farmer in a paddock in the middle of nowhere, who was happy to drive up to his shed to fetch his Allen keys when we discovered that Paul had a loose crank.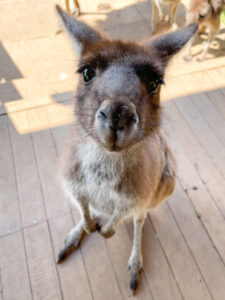 The animals we encountered were another highlight—black-banded wallabies, cockatoos, rosellas, scarlet robins, kangaroos, emus, quokkas, bandicoots, the occasional snake, swooping magpies, and lots of farm animals, including cows, sheep, chickens, and even an alpaca farm. My favourite stop was Donnelly River Village, which has a variety of super friendly kangaroos and joeys that don't mind a pat, along with cheeky emus and sweet Port Lincoln parrots (and great coffee and food, too). I did not know that kangaroos could ascend staircases and descend them again until staying in one of the houses the Village hires, and one decided to come up onto the veranda to say hello.
Weather-wise, we had many stormy days with lots of wind and torrential rain, but we also saw some sunshine. Riding in the rain is not that bad—we had excellent raincoats, we never overheated, and the air was so fresh and clean. The key was to make sure that we were staying in accommodation at the end of those rainy days so we could hose the mud and sand off the bikes and dry our gear out. The drawback of the rain was riding through many sections with sodden flowering bushes became so heavy that hung right over the track—sometimes I had to assume that the track was still somewhere beneath me as I was riding blind and being slapped silly by branches! And one of the storms brought a lot of trees down—on one day, we lifted over or bush-bashed around well over a dozen trees. But it's all part of the adventure.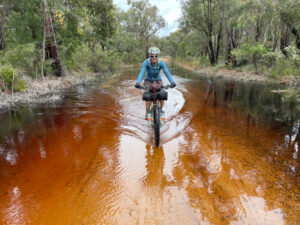 So, if anyone is looking for a beautiful and varied offroad trail with a good number of challenges, I highly recommend the Munda Biddi Trail. It was a ton of fun, and I was surprised to realise that I wasn't ready to pack the bike up and head home when I reached the end in Albany. It's a trail that caters to everyone—from the gravel-bikers who do it in 5 days to the relaxed tourer who may take a month and everyone in between. You won't be disappointed with the stunning southwest of Western Australia, the huge eucalypt trees, the flowers, the wildlife, and just how great you will feel as you escape the crazy world for a while. Just get out there and ride!
Planning a Trip – see the following links:
Munda Biddi Trail Foundation