Contributor: Paul McCormick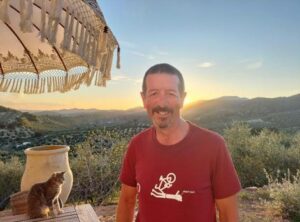 Once a year or so, I take myself away on a long (6-8 weeks) cycle tour, generally somewhere in Europe. In the last seven years, I've cycled from Stamford to… Turkey, Sardinia, Italy, Corsica, and Majorca, to name just a few places. On these tours, I carry everything I need to be self-sufficient on the road, including a tent and sleeping bag, food and water, and spare parts for my bicycle.
Here are my 'top ten' tips for long-distance cycle touring!
Planning:
It is important to have a plan! It gives you focus and direction and ensures you don't overlook anything. Plans should be flexible and include contingency arrangements; something will inevitably arise that will require changes to your plan.
Route:
Have a route in mind. It can be as general or as detailed as you wish, but it is helpful to know where you are going, how you are going to get there, and how long it is going to take.
Navigation:
Having made a plan and a route, you now need to follow your route. There are lots of cycle navigation Apps out there. I use Komoot on my phone and select the road cycle option (as the touring option often takes you on rough tracks and/or bridleways). I then export the route to my Garmin and have both devices mounted on my handlebars. Garmin is great for data and is generally sufficient for navigation, but I find it easier to look at Komoot when I need to zoom in and out on the map.
The bike:
You need a tourer! Generally, tourers are steel-framed and have mounting points for front and rear luggage carriers. Steel is both strong and flexible and so will absorb the shocks on the road far better than anything else; important when you are on the road for 6-8 hours!
Luggage:
I prefer four panniers: two at the rear and two at the front, for balance. I also have a large saddle bag that sits on my rear carrier for my tent. My two front panniers contain everything I might need for the day, and the two rear panniers for stuff I'll need at the end of the day. One of my front panniers contains my wallet, passport, charging cables, electronic devices, etc. That pannier is always with me wherever I go – shop, Bar, toilet!
Riding:
You are prospectively riding 80km-100km a day. That's a long way and a long day in the saddle! I like to be on the road by 8.00am and to split my day into four 'two-hour' riding chunks, separated by 30-minute coffee/food stops. Depending on the terrain and weather conditions, I'll cycle circa 20 – 30km in each riding chunk.
Don't chase the miles; let the miles come to you! Heart rate zone 2 for touring all the time.
Nutrition/Diet:
Just eat and drink little and often. It doesn't really matter what you eat. Eat absolutely everything you are offered, and don't worry about over-eating; I always come back from a tour far lighter than when I left. Expensive energy bars aren't necessary; just get the calories down. And don't forget to drink regularly.
Oh, and if you have too much for breakfast, wrap it up for lunch!
Hills:
You will almost certainly encounter hills, some of which will be long and with many ascents. Ensure you have appropriate gearing and try as far as possible to pedal at a high cadence in heart rate zone 2. When that is no longer possible, stop for a short rest as often as you need to. Focus on good pedalling technique and controlled, steady breathing. Remember, don't chase the miles; let the miles come to you!
Mechanical problems:
Something will inevitably go wrong. Don't panic; everything and anything can be fixed! Take a deep breath, sit down, and think clearly. Google the problem. Find a solution. Ask a stranger for help. Call a friend. Be inventive. Hitch a ride. You have a Credit Card!
Oh, and if you can't change an inner tube, don't even think about touring!
Mindset:
Long tours can, at times, be lonely! Social Media allows you to keep in touch with family and friends, and writing a blog on your journey gives you something to focus on when you're not cycling. But you'll need to make an effort to talk to people and initiate a conversation with a stranger; otherwise, your only human contact will be when you buy a cake and a coffee in a café!
Since I use the Warmshowers network as much as possible, in addition to being offered a bed, shower, evening meal, and breakfast with a host, I have someone to talk to in the evening.