Contributors: Paul and Natt Hamon
Originally Published in Bicycle Thailand in 2016, Updated 2020
My wife and I have been hosting bicycle tourists for a night at our property since 2015.
The touring cyclists we host have the opportunity to camp in a cool, dry place (if it looks like rain is imminent) or on our patch of soft grass out under the stars. Hosting touring cyclists has been a great experience for us. Welcoming international travelers into our lives who do not require much more than a shower, a safe place to sleep, and maybe the ability to get some laundry done is an easy and comfortable way for us to pay it forward to the cycling community.
The Warmshowers website is our portal to this world of international cyclists, some who have been on the road for years and others who are just beginning their adventure. The common thread between all of the touring cyclists is that they are on their own unique adventure, utilizing a bicycle as their main mode of transport and discovery.
Being touring cyclists ourselves, my wife and I have so many stories, advice, and comparisons to share with the cyclists we host. Every hosting experience also reminds us that it is not just about the bicycle, as we meet many like-minded couples or individuals who have broken free from the norm and decided to do something different with their days. We find these kinds of people and their stories interesting and entertaining.
We've written a few small comments to give you an idea of the range of touring cyclists we have hosted through the Warmshowers website: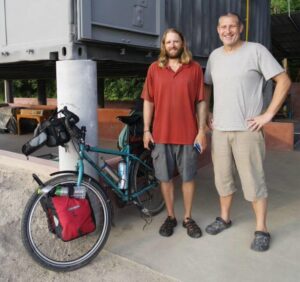 Nic, who is from America, is cycling through southeast Asia with no real particular plan other than to see as much as possible until his money runs out. He's hoping he's got enough for 12 months, and is watching his spending habits carefully. He started his ride in Bali and has cycled through Indonesia, Malaysia and Thailand. He plans to cycle further on to Cambodia, Vietnam, Laos, across Thailand's north and into Burma. He's hoping to make it into India and keep riding, assuming he can find better information about crossing the border out of Burma. He is traveling with a video camera and makes regular updates to his youtube channel.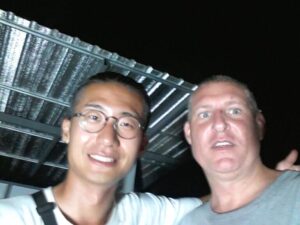 Woojoo was a crazy Korean lad who had arrived in Bangkok and was just making his way to Singapore to meet up with his family. He has a limited amount of time to complete his journey and was planning to cycle long days. His cycling kit appeared to be very new, having ridden only 200 kilometers distance by the time he stayed with us. The next morning he awoke very early and rode off before sunrise, eager to make his daily distance deadline. We learned (through his broken English) that he had not done much cycle touring before but he was keen to give it a go and didn't foresee any obstacles that would slow him down along the way. He was optimism embodied.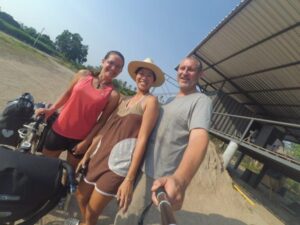 Solo female riders are just as common as male. Faith, from United Kingdom, was riding up from Singapore, camping everywhere she visited and, by her admission, missing her road bike back home. Her trusty touring bike was loaded and ready for a long trip.
Most touring cyclists give us updates about their plans, albeit VERY rough plans in most cases, and we do our best to give suggestions that may make their trip better. And, if they're lucky enough to be going through towns where we have some friends, we try to help them find accommodation in other locations.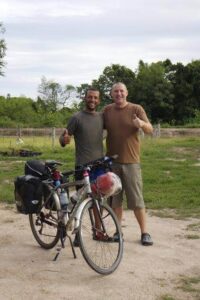 Saeid, a bicycle shop owner and avid mountain biker from Tehran, didn't speak much English but we were able to communicate by making use of google translate, hand gestures, maps and photos. We had a great evening. Another mate of ours was around when Saeid stayed with us so we ended up having a good conversation over a couple of beers – chatting about the amazing mountain biking north of Tehran. Saeid gifted us delicious dates from his home country of Iran. His bike wasn't as new as some of the others we had seen come through our place but, since Saeid is a bicycle mechanic, it definitely was in smooth working order. He wasn't on the longest of rides, as he had to be back at work within a few weeks, but he was determined to cycle the world one chunk at a time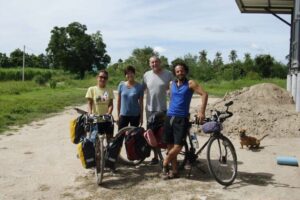 Italian couple Elena and Daniele had been cycling the world for three years, and had camped in all kinds of crazy places, lived off fruit from trees along the roadside, and been detained by Chinese officials for taking selfies in sensitive locations. They had so many stories to tell that, unfortunately, the 24 hours they spent with us wasn't enough time to tell them all. We didn't have to give any advice to these two, they'd seen and done it all. They had been to so many corners of the world and to listen to them talk gave us the impression that their time on the road was never going to end.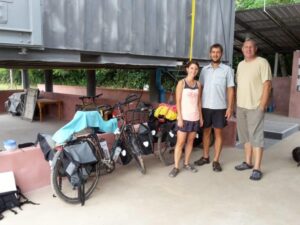 A french couple Anthony and Alexia, also spent the night, camping out of the rain. Amazing how young some of these people are, doing things that I never would have dreamt to do at the same age. Leaving everything behind to pedal their days away into the sunset, seeing, experiencing, laughing and having arguments. So many of the cyclists have told us that what you put out into the world is what you get back, so be happy and enjoy your life.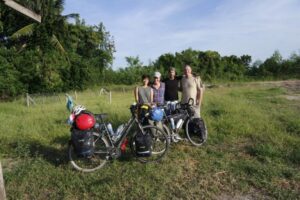 Some of the pairs of touring cyclists who stay with us started out as individual riders and ended up riding together for a time to keep themselves from going crazy. Matching up personalities, finding a new friend, sharing information and even sometimes cutting down on the costs of their own trips are all good reasons cyclists pair up on the road, even if it is just for a short period. One pair of individual riders who stayed with us were Janneke and Juan. These two had only met up a week before and cycled together like they'd know each other all their life. Janneke from Holland has been on the road for over 12 months, cycling New Zealand, Australia, and southeast Asia. Her legs were strong from long days on the bike. We could tell that Juan, who was from Spain, was getting a workout from his female companion as this was only his first month on the road.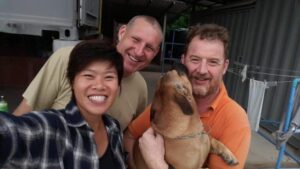 Aussie Kel left his wife at home for a year to cycle in his words, 'as far as I can'. With their kids all grown up Kel felt it was his time to do something crazy. He was bubbly and very interesting, an ex-policeman who wanted to see the world from a different angle. A lover of dogs and a great bloke, it wasn't long before my wife couldn't follow our jovial conversation full of slang words and thick Aussie accents.
I'm looking forward to the day we have a spare room where we can accommodate touring cyclists who are looking for something a little more cozy than sleeping in a tent. I'm sure these 'guesthouse cyclists' are sure to have new and different stories to share.