Contributor: Andres Garcia
I am from Colombia and have been traveling by bicycle for five years. My trip began in Argentina, where I studied musical composition. I decided to travel by bicycle without thinking about it; it was a decision that I had made at the moment, as I said, without thinking about it.
I had traveled previously but with a backpack. From 2012 to 2013, I traveled with my ex-girlfriend through Ecuador, Peru, and Bolivia without money, making music with the guitar and melodica. From that moment, I was passionate about traveling the world.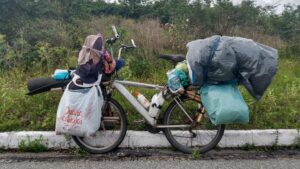 In 2014 I went to Argentina to study music, and in 2016 I left Cordoba, Argentina, pedaling through Uruguay, where I met Pepe Mujica, former president of Uruguay. In 2017 I entered the south of Brazil, and since then, I have traveled through one of the world's largest and most diverse countries.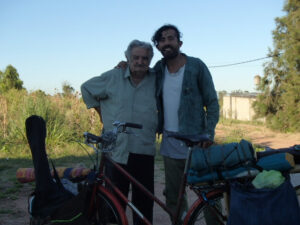 I have lived many stories and experiences. My trip is a different trip; a trip without money, but with art, music, crafts, asking for help, and sharing service. I am very proud of myself; I never imagined that I had so much courage. I travel alone with an amplifier that I use for my shows and to get some money. When my trip began, the idea was to pedal around Europe, but I am here and there for the moment.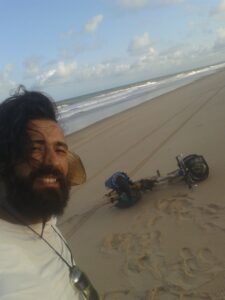 I do not have a sponsor, but at the same time, I have one; the best The towns, beings like fishermen, gas stations, bicycle workshops, etc., are the ones who help me. Now I am in the northeast of Brazil, in the State of Piauí.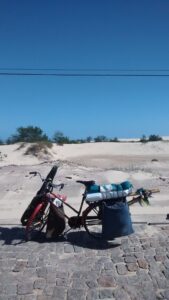 I hope you like my story. Thank you, good routes and pedaling, Satispen tali ??… health and freedom for all.
You can follow Andreas on Instagram at @biciante.