Contributor: BikeFlights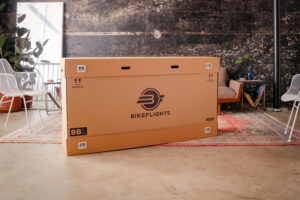 Looking for a holiday gift for the traveling cyclists in your life? BikeFlights has you covered with their easy-to-pack Bike Shipping Boxes. Available in four sizes to fit most bikes, they're great for shipping bikes and bike touring gear to and from your favorite adventurer's next bike tour. 
BikeFlights Bike Boxes come packed compactly, so they can be stashed conveniently in a closet or under a bed until it's time to use them. They assemble in minutes, and there are a lot of helpful educational videos on BikeFlights' YouTube channel to guide riders through the packing and shipping process. BikeFlights Bike Shipping Boxes can also be recycled just like other cardboard boxes. 
The current version of BikeFlights Bike Shipping Boxes was launched in the spring of 2022 after extensive development and testing to Amazon's ISTA 6A standard. They were designed by a professional box engineer to withstand 38" drops, heavy loads and vibration in challenging climatic conditions.

We've put together this handy guide to help you pick the right sized boxes for your holiday gifts:
BikeFlights Bike Box Small: Intended for bike touring gear or small bikes such as many kid's' bikes, it easily assembles to a size of 43 x 10 x 24 inches (109 x 25 x 61 centimeters).
BikeFlights Bike Box Medium: Perfect for most gravel and road bikes, it builds up to a size of 45 x 12 x 30  inches (114 x 30 x 76 centimeters). Intentionally sized below 130 inches (330 centimeters), this box keeps shipping costs low for both domestic and international shipping.
BikeFlights Bike Box Large: Universally sized to fit most bikes including touring bikes, mountain bikes, e-bikes and other larger bikes, it assembles to a size of 62 x 13 x 33 inches (157 x 33 x 84 centimeters) and is designed so that a bike's rear wheel and rear derailleur can stay on during packing and shipping. 
BikeFlights Bike Box Extra Large: Designed for shipping drop bar bikes with their bars and stem still attached, it easily builds up to a size of 56 x 21 x 32 inches (142 x 53 x 81 centimeters). With this box, there's no need to remove the handlebars, deal with complex cable routing or reposition the cockpit. It's also a great box for riders who like to travel with a spare wheelset or a fat bike.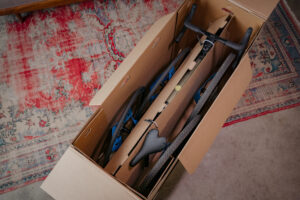 BikeFlights Bike Shipping Boxes ship to you free via ground shipping within the contiguous U.S., or you can upgrade to expedited shipping. They recommend ordering by December 12, 2022 to ensure on-time arrival during the busy peak holiday shipping period.
For more information or to order BikeFlights Bike Shipping Boxes, visit the BikeFlights online store.