Contributor: Penny Schwyn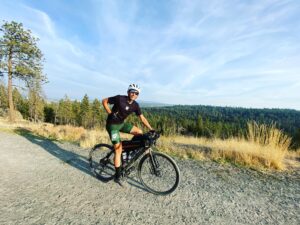 As always, we get excited when it works out to host a cyclist. We had no inkling that our Warmshowers guest would be party to a life-changing event at our home.
It turns out Seth LOVES gravel. When he found out we were going on a community fun ride, The Gravel Flamdangle, he asked to stay an extra day to join us. Sunday morning, we loaded up the bikes (my husband, myself, and Seth) to head to the start of this ride in a rural area north of town.  He made himself right at home with the local riders, and he and my hub headed out at the front of the 35-mile loop. I hung at the back, my happy place.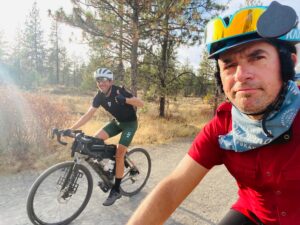 All was well and good until 2/3 of the way through the course, when the sag wagon pulls up next to me; Seth jumps out and says, "Craig's had a heart attack; get in the van". My response was, of course, "you are sh*tting me". "Nope, they've called the ambulance," he says and starts loading my bike. I'm stunned but take a deep breath to hold it together.  The word is my husband had chest pain and got off the bike at a stop sign to rest, then 10 minutes later, he and his buddy called 911. The ambulance arrived 15 minutes after. My husband told Seth (who came up on the activities from behind) to go find me as the sag wagon just happened to show up at that moment too. That is how I ended up in the sag wagon with my bike, my husband's bike (also Seth's quick thinking), and our Warmshowers guest.
While I am trying to stay calm, Seth is laser-focused on helping me out. He loaded my bike carefully, then searched and unpacked my bags for anything I might need to take with me to the hospital. My phone, snacks, water, and my extra shirt all got handed to me. He reassured me that our bikes would be looked after. I felt 100% safe in giving him the key code for the house and knew our bike family would somehow get him back there. He constantly reassured me that all else would be taken care of; I just needed to get to the ER. The relief I felt knowing Seth was looking out for us was amazing.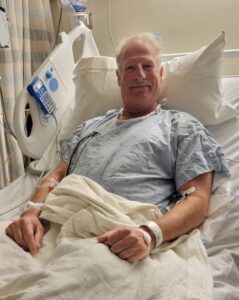 I got to the ER 15 minutes after the ambulance arrived, just as they were rolling him into the cath lab for a stent. My husband had a 100% blockage of the left anterior descending artery, which is the classic "widow maker" scenario. There is very little damage, and full recovery is expected. For a guy who rides 1000s of miles a year and finished Tour Divide in 25 days in 2019, a heart attack is the last thing we ever expected. But it happened. Even with great health and fitness, a good diet, and good numbers, there are risk elements that never go away.
When I returned home from the hospital that evening, Seth had just arrived, getting a ride from another rider. It could have been awkward, but Seth did his very best to be helpful and give me space to decompress. He made himself very useful with things he could see that needed to be done, from unpacking coolers to taking out the trash to dealing with the bike rack. In the morning, as I went back to the hospital, he headed out to his next adventure: hanging out with other locals to explore more gravel.
It's the little things that matter. I feel like Warmshowers has extended what I call "my bike family".  Things could have been different: my hub prefers long-distance, solo, remote rides, and it's just a matter of luck that we did a community ride that day. I felt so supported by my bike family: knowing I can ask for help, knowing our bikes were safely locked up in a shop afterward, knowing I could focus on what was right in front of me only: my husband in the hospital after a heart attack. Our Warmshowers guest was instrumental in me not feeling alone in this. I am forever grateful.
My husband is going to be fine. His cardiologist, who is also a cyclist, gave him clearance to start on the bike paths at a low heart rate within a week of being released. I hope we have many more miles together.