Contributor: Susan Fox
This year, after 10 years of discussion and 5 years of planning, my best friend and I set out on our first cross-country tour.
We had been inspired by a roadside gentleman who invited us to share his fire during our first tour in Eastern Oregon…in the rain. His story about his mother, who started riding at 55 and crossed the country at 72, was the catalyst. We bike-packed every summer, but just for a week. We knew how to ride, what to pack, and how to navigate. But 82 days on the road was a whole other adventure.
We learned as we went that nothing planned stays as planned. Be flexible but strong. We had several mantras that really helped along the way, like: 'Well, you can't stay here' (used after several instances where the ride, weather, traffic, or? was overwhelming), or 'Some days are hard' (because several days were REALLY hard), or 'It's just one night' (used in multiple instances where the motel or campground was less than appealing).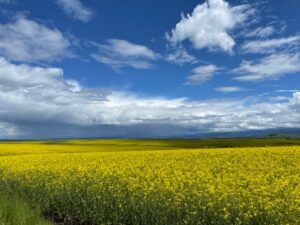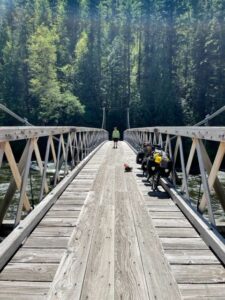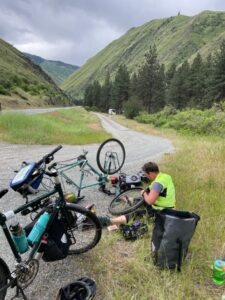 We confirmed that we could do hard things. We confirmed that people are good…all the way across the country. So many folks stopped to assist us, even if we didn't need assistance. And sometimes we did…so many roadblocks, some too far to reroute. We encountered incredible scenery, fierce and fabulous weather, small towns and large cities, and people of all kinds.
Would we do this again?  Already packed and ready to go.