Contributor: Kanishka Poddar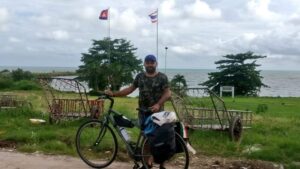 I am back in Thailand, but this time, I was up for one of my most random out-of-the-box vacay. I was here with no concrete plans in my mind on what to do and where to go. I started by spending a couple of days with Immu at Spinning Bear Hostel, bought a second-hand bicycle, planned a rough sketch of my route with Immu's help, and started cycling toward Cambodia. Yes, I chose to cross the Thailand border on my bicycle and enter Cambodia to reach Phnom Penh over the next couple of weeks.
This plan was so random that I had no routes planned in the back of my mind, didn't know anything about the places en route, and had no clue of where to stay, eat, or what to expect ahead. I was just going to live one day at a time, making the most of every moment and experience I would encounter.
Bangkok to Chachoengsao
The Day 1 of the tour was relatively easy, wherein I had to ride for 55 Km from Bangkok to Chachoengsao, but then I chose to take a few detours and rode through smaller lanes crossing rice fields, rivers, lakes, and more. I ended up riding over 90 km by the end of the day, but believe me, smaller lanes are so much better than the boring highways. These smaller lanes have their own distinct character: green covers, local villages, and people.
One of my favourite moments from today was when I stopped for breakfast at a home-run Thai restaurant. I was so hungry at that moment that when I stopped at this food joint, I simply told them in broken Thai language to give me some food. It really didn't matter what was being served, just that it was something edible. They served me a big bowl of noodle soup with frog meat in it. I had no complaints and ate it quietly because it was super delicious. Thai people definitely know how to make soulful food.
Once I reached Chachoengsao and settled down in a hotel room, I realised that in today's ride; I burnt my back, legs, and even my face. I stepped out to get some aloe vera gel for my skin, treated myself to a good massage, spent hours in a nice cafe with Wi-Fi, and had more food and beer before I called it an early night. Interestingly, this small town had everything that I would need, and that feeling was quite comforting.
Chachoengsao to Rayong
I woke up early and started riding towards Rayong even before the sun rose because I had to cover over 120 KM today and needed to save my skin from burning further. Today, while riding in the dark, I had my first encounter with dogs in Thailand. They were fierce as hell and would chase me for miles and miles. I started getting goosebumps merely by finding a dog in the vicinity.
Once the sun rose, I felt more comfortable and went back to riding in smaller lanes away from the traffic in sheer nature. There is a different kind of joy in cycling in smaller lanes, which really can't be expressed in words. I had mountains, rice fields, rubber plantations, and plenty of tiny villages for my company today. Every time a village would come, I would stop at the local market to cherish some refreshing pineapples and watermelons. Moving forward, I would frequent caution signs for elephants, deer, and cows on the side of the roads, and there was a frequent transition between tiny village life and wilderness of nature as I kept pedalling. These are my favourite kind of moments in any bike tour.
While I stopped for lunch, I connected with Ebby through Warmshowers, a community of bicycle travellers across the globe. Ebby runs a resort on the outskirts of Rayong, and he literally gives room for free to any cyclists who would ride into his resort on a bicycle. At first, I didn't believe that he would actually give me a room for free, but he actually did. I had the entire room to myself and could also keep my bicycle safely inside. Ebby was an interesting guy, and we spent long hours talking about cycling, Thailand, and life in general. He moved to Thailand from Germany many years back and now hosts cyclists at his resort to inspire his son with bike touring and the joy attached to it. I loved his generosity and passion towards Cycling. When I asked him why he does so, he said it is his way of giving back to the people and community he loves.
I ended my day early with food across the resort to start again early tomorrow to a new destination.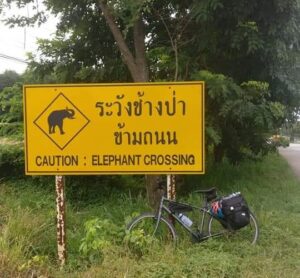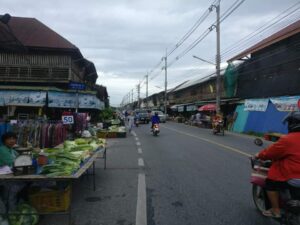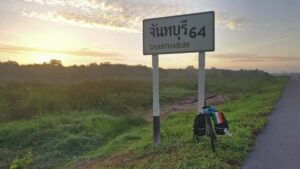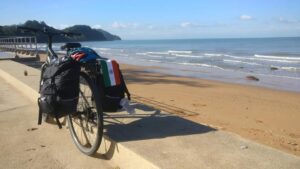 Rayong to Chanthaburi
I woke up early for yet another day, wherein I had to ride all the way to Chanthaburi, an erstwhile French colony and one of the prettiest cities in eastern Thailand. I had to ride a total of 90 Km today as I chose to ride to Chanthaburi via the Noen Nangphaya viewpoint. This would take me through the scenic route on the east coast, which had long stretches of dedicated cycling lanes. I started early to witness a beautiful sunrise, met plenty of cyclists on the way, and exchanged customary greetings with each other, and with every mile I would cover, I was getting closer to the sea. I was all set to witness the sea and step on the beach for the very first time on this tour.
The good roads and the tailwind only added more joy to my ride. I was pretty fast on this stretch and reached Neon Nangphaya viewpoint sharp by 8 AM. The view was mesmerizing; I felt so much at peace looking at the sea, which probably can't be explained in words. I just sat there next to the sea for hours doing nothing.
I started again to complete the last stretch of over 40 km to end the day's ride, but since I overstated at Neon Nangphaya viewpoint, the strong sun straight above me was playing a spoiled sport. A couple of wrong turns only added more miles and woes to my ride. There was this very moment when I stopped at a 7/11 store to hydrate myself, but the aircon felt so good that I ended up taking a quick power nap inside the store itself. A girl from the store woke me up some moment later; feeling embarrassed and relieved at the same time, I refilled my bottle of water and started pedalling again towards Chantaburi.
An hour or so later, I entered Chanthaburi, a riverside city I literally fell in love with instantly. The city had a beautiful vibe, which can be felt everywhere. There is a huge lake in the middle of the city, which is surrounded by beautiful cafes, restaurants, cycling and running tracks, parks, and more. The French influence in the city was visible through its architecture, cafes, and culture. The moment you cross the river, you enter the old city of Chanthaburi, where all the hustle happens. Both sides of the river are distinguishably different from each other in every aspect, which makes walking through the alleys more interesting. The cafes on the riverfront let you experience the world on both sides.
This is what I love the most about bicycle touring. If it weren't bike touring eastern Thailand, I would have never been to this pretty little town worth instant love. I shall definitely go back again to this city someday soon.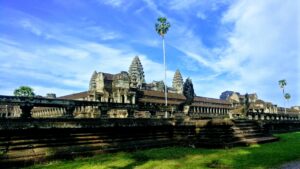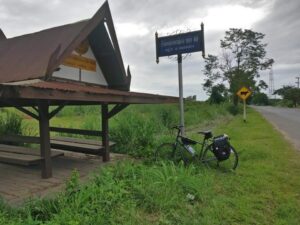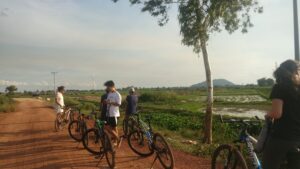 Chanthaburi to Koh Chang Island, Trat Provience
Leaving Chanthaburi wasn't easy, but then I was back in the saddle the next day. It was day 4, and I was finally heading toward Koh Chang, the biggest Island in Thailand. I chose to rest here for a couple of days before heading towards Cambodia. I was finally getting closer to the Cambodian border, and I could see the milestone of border towns as I rode towards the island. It was a cloudy day, which helped me with the ride, but I had sore bums, which started troubling me after a couple of hours on the road. It was probably a sign that I needed rest. I literally had to push through the next 20 km, kept stopping every now and then, and kept things easy.
I fondly remember how the mere view of the ocean rejuvenated me and filled me with some fresh energy to ride forward. I reached the pier by around 2 PM and got on the ferry to Koh Chang. One of the most interesting parts of Thailand is that bicycles are allowed for free on the ferry. I thought my ride was over once the ferry reached the island, but I was so wrong about it. The hostel where I was staying was still 10-12 Km away, and it was one hell of a road with insane climbs. Some of the stretches had a gradient of over 20%, and I literally had to walk with my bike for most of the route.
A few km into the island, I reached White Sand Beach, where I found an Indian restaurant – Taste of India, and I felt so relieved and happy that I literally danced right there on the street outside the restaurant. I didn't have any interest in having Indian food, but getting a good cup of chai on an Island not so common among Indian tourists was divine. Also, being able to make conversation with someone in a language we both understand was so satisfying.
Over the next couple of days, I stayed in Koh Chang, giving myself a much-needed break from cycling, and literally did nothing other than walk on the beaches, chill at the shacks, or swim in the waterfall nearby. It was blissful and rejuvenating and exactly what I needed after cycling for 4 straight days.
Koh Chang to Trat to Hat Lek
As I was losing the count of days, I decided to leave the island and start riding again. I checked out of my hotel, took a tuk-tuk to the pier, and then a ferry to reach the main island and started riding towards Trat town and from there towards Hat Lek, the easternmost point of Thailand mainland. I am supposed to cross the border at Hat Lek and enter Cambodia. The plan was to ride for 120 Km approximately to reach the border town, cross the border into Cambodia, and stay somewhere closer to the border for the night.
The sky was covered with clouds, and it was just the kind of day anyone would enjoy riding. I did some detours to explore Black Sand Beach, which was on the route to the border, and believe me, it was worth the extra miles I covered. The beach was gorgeous and something I had never really seen before. The moment I crossed Trat, it started drizzling, but I kept riding as I wanted to reach the border well on time for immigration. However, some 80 km later, it started raining cats and dog, the visibility was zero, and lightning in the sea only made things looks scarier for me. I managed to hop into a car with my bicycle, which dropped me right at the border town. Even though I hitchhiked the last 40 Km, I was completely drenched in the rain.
I reached the Border around 4 PM, checked out of Thailand, and I was extremely happy to be able to cross an international border for the first time on a bicycle, but little did I know about the nightmare ahead. The Cambodian Officers were insanely corrupt and refused my entry till I paid them a hefty bribe. I begged for hours, but there was no rescue even though I had a valid visa for Cambodia. It was already 8 PM, and Thailand Immigration was also closed for the day. I had to stay in the no man's land for a night in wet clothes, which was the worst experience for me ever. I was questioning everything. Why I came all this way? What's the point of cycling here? and I had given up on riding ahead and decided to take the next bus to Bangkok and then a flight back to India. It was nothing less than a nightmare, and felt like I had a complete breakdown. I slept in my wet clothes outside the office of Cambodia Immigration, hoping that I would find my way into Cambodia tomorrow morning.
I woke up the next day to some warmth of the sun, begged before the immigration officer again, and when nothing worked, entered Thailand again with the idea of taking a bus to Bangkok and spending a few days there relaxing. I hitchhiked to Trat in a mini truck to catch the bus to Bangkok.\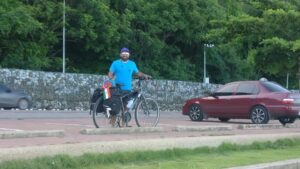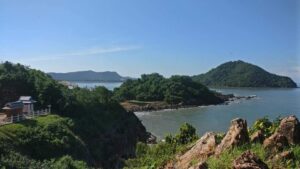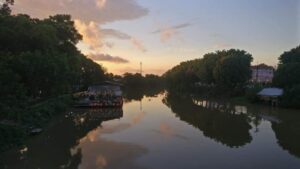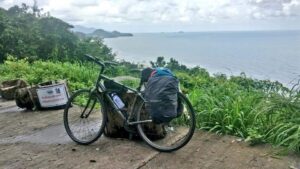 Trat to Poipet to Sisophon
By the time I reached Trat, the sun was up, and I felt more refreshed. I decided to try entering Cambodia once again from the main border between the two countries at Poipet. I took the bus to the next province Sa Kaeo, stayed overnight there, and then started riding towards the Poipet the next day to enter Cambodia. The border was only 50 Km away, and then I had to ride for another 50 Km to reach Sisophon, where I decided to stay overnight. I started early and reached the border around 8 AM, crossed the border in literally 10 minutes, and started riding again. I stopped at a roadside restaurant for some food and then started again.
There is a striking difference between the roads in Thailand and Cambodia. In Cambodia, there were literally no rules, with vehicles coming from every side, people everywhere, and too much honking. Being an Indian, I am used to these things, but somehow, experiencing it in an alien country was not comforting at all. By the time I reached Sisophone, I was completely black because of the pollution on the road. I found a hotel, took a quick shower, had some food, and called it an early night. I was mentally exhausted after the episode that happened on the other border and while riding on the Cambodian road.
Sisophon to Siem Reap
I woke up the next day at ease, got ready, had breakfast, and started riding towards Siem reap around 7:30 AM. I felt better after the good sleep, but the traffic and pollution on the road were not fun at all. The plan was to cover the distance of 90 km to reach Siem Reap at the earliest, and that is what I did. I kept pedalling without taking any breaks and reached Siem Reap by 1 PM. I had no clue what Siem Reap had in store for me as it was not there on my original route, but the moment I entered the city, I could feel the good energy everywhere in the city. I was also excited about exploring the famous Angkor Wat, but the main idea was to say lazy and do nothing.
I stayed here for a few days, fell in love with the city and its vibe, explored Angkor Wat, and believe me, it is mystical and worth every moment I spent there. On one of the days, I went along with a group from my hostel to explore the hinterlands of Siem Reap on a bicycle. We went on to experience some village life, enjoyed the sunsets from across the lotus fields, and later went on for a pub crawl at Pub Street to celebrate the day and new friendship. The city was growing on me, and I was kinda falling in love with this beautiful Cambodian City.
There was a part of me that hated Cambodia for the corruption at the border, and bad riding experience on the highway, and the very fact that there was no good local food to eat, but then there was a part of me which literally fell in love with the place, people and energy that flows every day.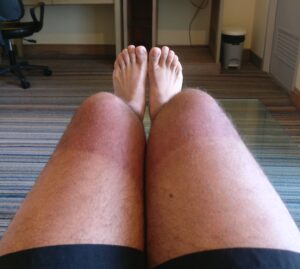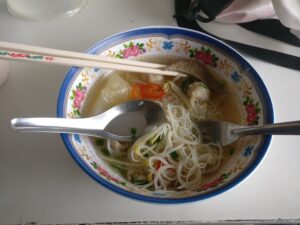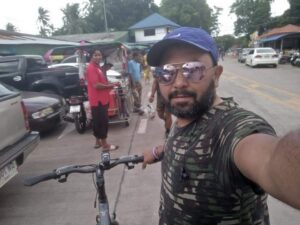 Siem Reap to Stoung
I was back on my bicycle for the final leg of my tour, and I was on my way to Phnom Penh, which was approximately 300 Km away. I decided to make my first halt at Stroung, which is in Central Cambodia, approximately 100 km away from Siem Reap. Unlike in India, Cambodians ride/drive on the right-hand side of the road, and it gets quite challenging because people, animals, and trucks literally come from every side of you. I started early to avoid the traffic and cover as much distance as possible before the sun got up. I guess by 9 AM, I had already covered over 80 Kms when I stopped for breakfast. Riding the last 20 Km was gruesome, and on reaching Stoung, I decided not to stay there and took the bus to Phnom Penh immediately. I slept most of the time on the bus, reached Phnom Penh late in the night, and went straight to a hostel I had booked on the way.
I stayed in Phnom Penh for a couple of days, explored the city, killing grounds, war memorials, and met some Warmshowers hosts, got my bike packed, and then moved to the islands in the south to relax before flying back to India. I felt relieved after calling an end to my bike tour, but the experience that I had in the last two weeks was amazing. When I started in Bangkok, I never thought I could make it this far, but now, when I look back, I feel amazed knowing how far I have managed to come on my own. The experiences I had, the people I met on the way, new friendships, and the joy of making conversation with someone after weeks and finding good food in the middle of nowhere are something that will stay close to my heart forever. Even after years, these moments are so fresh in my mind that I feel like diving into those memories right away to experience the same joy, love, and adrenaline inside me.