Contributor: Imanol Sanjuan

Simply stated, Recicleta Ribera is a meeting point for those who want the bicycle to be their means of transport in the streets of the Ribera de Navarra, Spain.
Who is Ribera Recycle?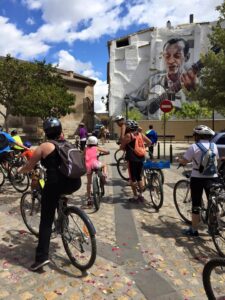 A group of dedicated people from the Ribera de Navarra who are committed to sustainable mobility in all the municipalities of the region. To achieve this, we consider that the bicycle is the best instrument, and that is why we bet that it can be used as a means of transport without having to risk our lives in the attempt.
We would like to go to work on a bike, to study on a bike, to buy on a bike, to have fun on a bike, with our children on a bike, or go out with our friends on a bike…
We want to promote the use of the Urban Bicycle and support alternative means of transport to the car.
Ribera Recycle Goals:
To increase the use of bikes within the Tudela area and make it the most used conveyance.
To improve autonomy among kids and adults when it comes to commuting.
To make kids, families, schools, and others involved in the use of bicycles.
To make Tudela a safer place to drive a bike.
To reuse and recycle left-over bikes donated by its owners or associations.
How the project works:
Recicleta Association: the brain of our association. This represents the core of the project as it runs and manages all the other branches (Biciescuela and bike adoption center). It is fully aimed to reach all kinds of public interested in using the bike as a way of commuting and leisure, offering interesting activities such as bike meetings, local events, etc.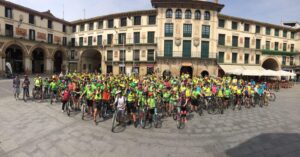 It is in charge of managing contributions (usually 10 euros/year) and of dealing with other associations, institutions, and partners.
It manages the requirements from "biciescuela" and the mechanical garage.
Biciescuela (School of biking): It is an attempt to get bikes ingrained in our school system, making teachers, students, and families involved too. We already collaborate with all schools and high schools within the city of Tudela (as we coordinate the "Safe Schools" Net) as well as with other cultural and official institutions. We encourage people through these activities:
We are offering lessons to recognize different types of bikes and their uses and which is the most suitable for any kind of user.
Reparation and maintenance program to provide everyone interested with the knowledge needed to do it on their own.
We also provide information about the bike routes all along the area, showing the safest and most suitable for reaching for instance schools. We collaborate with the city council in order to map out and project new bikeways and street signaling.
We are concerned about safety and so we take it really seriously. As a main part of our program, we are convinced education is on the grounds of safe driving and so that we offer bike driving lessons oriented to the city environment.
We count with a "yayabike" (A vehicle especially intended for elderly people with mobility issues that is piloted by a volunteer with a specific capacitation). This allows us to integrate young and old people promoting activities carried out together.
As part of Biciescuela other activities are offered out of the regular season as summer camps or special events such as bike-tuning lessons, weekend jaunts, etc.
Bike Adoption Center (mechanical garage): the hearth of our group. From this place we try to get bikes that are not used anymore by their owners in order to fix and utterly lend them to people that need transportation. In 3 years, we have already collected around 1000 bikes whilst around 250 of them have needed some work on them before been released. We ask for a compromise that the bikes will be reintegrated to our place in case they are no longer needed so that we can offer them again to new people. That system allows a member of the association, for instance, to get a bike for a kid and change it whenever they grow up and need a bigger size.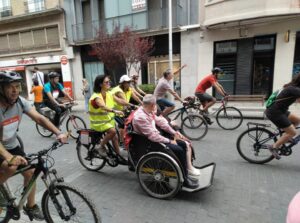 We closely work with a lot of immigrants who usually are in search of conveyance due to job issues but have no income enough to afford another vehicle.
When the bikes we receive are useless, we even make the most of their parts to mount new ones. This way, we can provide members with piece stock in case it is needed for any reparation or maintenance issue.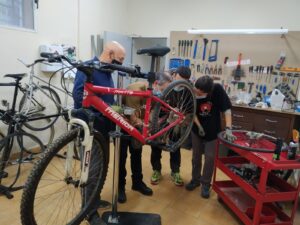 We are all volunteers here offering our time, effort, and knowledge to recycle bikes, teaching how to fix them or even improve their performance through some "handcraft." From this place, we collaborate with local businesses trying also to boost our local economy.
Last but not least, we would like to make it clear that there is no economic profit coming from our activity. All the money we receive from institutions and contributions from members is reinvested for creating new projects or maintaining ongoing ones.
To learn more, please visit RecicletaRibera.com or contact Imanol Sanjuan at imanol.sanjuan@gmail.com.