Contributor: Ayleen Crotty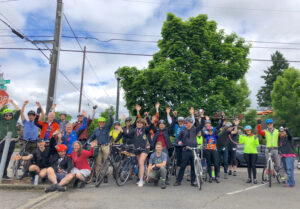 Filmed by Bike is celebrating 20 incredible years of bringing bicycle stories from all over the world to the silver screen with their annual film festival. The team of bike and film experts says they spend at least eight months out of the year searching for the world's best bike movies, and forging relationships with filmmakers.
To celebrate this milestone year, Filmed by Bike is hosting an expansive weekend of activities in their home city of Portland, Oregon June 9-12. There will be bike rides every day, filmmaker talks, six programs of movies, a street party and much more. More than 2,000 people are expected to flock to the beautiful, historic Hollywood Theatre in Portland to celebrate a love for riding bikes, and for bicycle culture.
All of the film programs will be available for online viewing through August, but the in-person festival is where all the action is. Festival Founder + Director Ayleen Crotty says this is one year you don't want to miss.
"If you have ever considered visiting bike friendly Portland, this year's festival is the perfect excuse to come tour our city," she says. "Visitors can enjoy a jam-packed festival schedule with plenty of opportunities to meet other bike enthusiasts and filmmakers from all over the world. And friendly locals will be available to help point people to their favorite destinations, sites and routes to ride."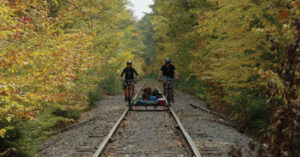 The festival features a broad mix of movies, everything from comedies to documentaries, from wild mt. bike rides to tales of adventure on the open road. Filmed by Bike works with a jury every year to select which films make the cut and earn the title of World's Best Bike Movie. This year they'll show 50 such films.
Bicycle travel is one of the most common themes at the festival. Filmmakers each take a unique approach as they share the stories behind their bike touring adventures. Filmmaker and bike touring enthusiast Devanda Suti says the story is what's so important.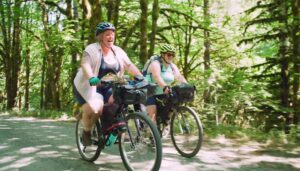 "My adventure is a personal journey. The scenery is stunning. The people are warm and inviting. Maybe the colors are overwhelmingly mesmerizing and the food delights the senses. But all of that is a common theme for bicycle travel. Before I set out to document my adventures, I'm always contemplating the story I want to tell. Why do I want people to care about this film? And then I'm open to what happens along the way, because as we all know sometimes that's when the real story – the magic – happens!"
If you're interested in visiting Portland for the festival, here are some tips from Ayleen:
Come ready to ride! We have short urban rides every day that are a great way to experience this bike friendly city and meet other festival attendees. Bike share and bike rental options are available.
There are so many incredible movies in this year's festival, and a lot of events happening. With a Festival Pass, you'll be able to see and do it all. Pay once, then settle into the weekend and just have fun.
Portland is a friendly city! Our local attendees are always happy to chat with visitors, help them feel welcome and help them discover the very best our city has to offer.
If you're able to come for a longer stay, I recommend you extend your visit for a few days after the festival. You'll learn a lot about the city during the festival and you never know what locals and new friends you might meet.
The festival takes place in the Hollywood District, and there are several hotels nearby that would make for a convenient weekend.
Come ready to eat! Portland has an incredible food scene. Food carts are a delicious culinary adventure and an easy solution when you're on-the-go during the festival.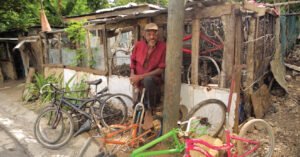 For those who won't be able to make it to Portland for the 20th Anniversary festival, Filmed by Bike is available online through August. A shorter film program also hits the road this July visiting cities all over the world to strengthen their bicycle cultures and raise funds for bike projects.
See FilmedByBike.org for tickets and details about this year's festival, and information about how you can bring the festival to your area.