Contributor: Ayleen Crotty, Filmed by Bike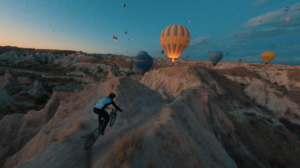 We all know how much travel rejuvenates the soul and unites people across cultures, but for many of us our travel over the past few years has been somewhat limited. Even if you're an experienced bike adventurer, getting back into the groove can be a bit of an uphill climb.
Where should you go? Who should you go with? What additional measures do you need to consider these days? Just where is that pannier… Sometimes merely thinking of those logistics can put a damper on your travel spark.
But fear not! Filmed by Bike has extended the online viewing of their 20th Anniversary Film Festival so you can once again get inspired. No matter where you live, you can enjoy these stories about our shared passion for bikes. Pop some popcorn, sink into your comfiest chair (or hunker down in your cozy tent) and get ready for the magic to unfold on screen.
You can watch a trailer and buy tickets on the festival website.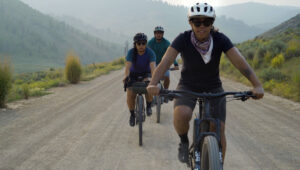 The festival features 6 movie programs featuring the world's best bike movies, each one with a different theme that's sure to delight. There are tales of adventure and travel in just about every one of the programs. You'll also enjoy stories about how bikes transform lives, heartwarming films of bikes bringing us together and plenty of humor and wild bike antics to keep it all lively. These short films whiz by fast, and the programs vary in length from one to three hours. The easiest way to explore them all is to buy a Festival Pass.
As a special gift to the Warmshowers community, Filmed by Bike is offering 50% off a Festival Pass. That's a 25$USD savings. Just use the code " biketravel " at checkout.
"The past few years have been a challenge for the bike travel community," says Festival Director Ayleen Crotty. "Every single time we show these films to our jury, they tell us how inspired they are to get out on their bikes. We wanted to share that excitement with the Warmshowers community. We're proud of our partnership over the years and we love everything you do!"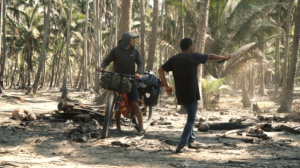 But where do those films come from? Filmed by Bike collaborates with a community of filmmakers from all over the world to curate their collections. Bike travelers like you often submit stories that chronicle their incredible journeys to far off places. An annual jury of bike and film enthusiasts reviews the films and declares which ones make the cut for that year's film festival.
Submissions are due every January, and are also accepted throughout the year. If you're not sure if your idea is worthy of the silver screen, the Filmed by Bike team can help you put the final touches on your concept. They can talk you through what the Filmed by Bike jury is looking for in a film, and just what makes a travel story worthy of the title "World's Best Bike Movie".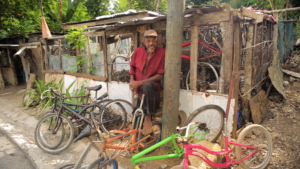 If you're in need of funding for your project, Filmed by Bike's own grant program provides funding to emerging BIPOC filmmakers so they can share their bicycles stories. They have helped fund 7 films incredible films. Each filmmaker receives a 1,500$USD cash grant and free consulting sessions with a professional filmmaker. Read all about it on their grant page.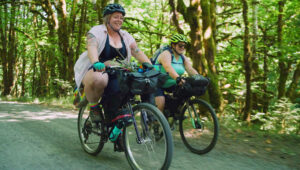 In addition to the online viewing, the Filmed by Bike Tour Program, sponsored by Warmshowers, brings bike movie screenings to locations all over the world. These events are helping strengthen bike communities as they raise funds for new trails, bike networks, youth programs and more. There's nothing quite like hanging out with a theater full of people who love bikes as much as you do! If you are interested in bringing a Filmed by Bike event to your region, see their website for all the details.
Their current tour includes Zürich, Switzerland; Quincy, California; Tampa, Florida and Cork, Ireland. See the Tour Dates Calendar for more information.
We are proud to be a part of the movement that brings these thrilling films all over the world, and we hope you'll join us in watching them!