Contributor: Doris Tuck
Three years ago, in June 2019, we hosted our first Warmshowers rider, Alistair, a doctor from London who was riding across the country.  He rode down the coast from the city, which was probably a really great ride until he had to turn east and over the Santa Cruz mountains into the 106º that was Santa Clara valley that day.  He stayed with us two nights, then headed over Mount Hamilton and down into The Valley, then to Yosemite, and on across the country.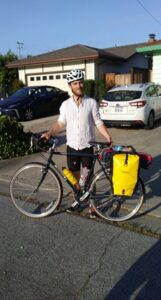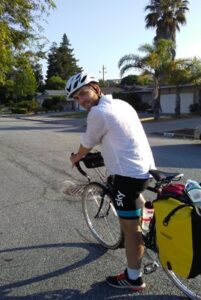 July 25, 2019
Dan Luckster, spur-of-the-moment, arrives evening and leaves early in am for Santa Cruz.  He was riding from Vancouver to Tijuana.  He contacted us by phone (not thru Warmshowers) and pretty last minute, so I was very skeptical and decided not to do it. But when he called again later in the evening and had not yet found a host, we really had nothing else to do, so I decided to give it a try.  I'm glad we did. We were delighted to get notice of his arrival in Tijuana and hear a bit about his ride.  That makes it all worthwhile.  He arrived in Tijuana on 8/29, then was to take Amtrak back to New York.
December 20, 2021
We hosted a couple of guys from, I think, Finland, but I did not record this visit.  These young men were very interesting, and we enjoyed them. Wish I could remember more.  Maybe they will see this and write to me.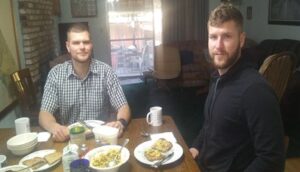 And then there was Covid…no riders for a couple of years…
June 1, 2022
Andrew, from Toronto, rode down to San Francisco on his way to Mexico.  He took a few day's break from his ride to go to Yosemite with some friends who were also visiting this area.  He took CalTrain to San Jose and spent a night with us.  The next morning friends picked him up for an auto trip to Yosemite for 3 days, leaving his bike with us.  On his return from Yosemite, he again spent the night with us, then CalTrain back to the city to resume his trip down the coast to Mexico.
Andrew had mentioned that his mother was a bit worried about this adventure of his and suggested I might send a photo to her to prove he was healthy and happy.  I did that and had a nice note (via text) back from her thanking me.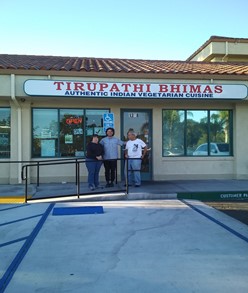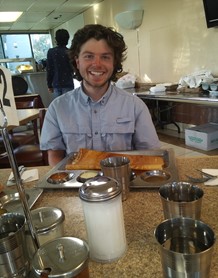 June 18, 2022
Raymond & Josh, from Southern California, took the chooch to San Jose, spent a night with us, and next morning BART to San Francisco for 2 days of touring the city, Marin County, and Muir Woods. The third day they begin their ride down the Pacific Coast to Orange County and home.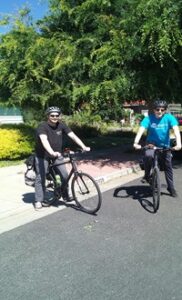 We hope all have had a great—and safe–time.