Contributor: Kevin Kimpel

I have been an active Warmshowers host since 2011. Somewhere north of 130 people of all ages and many nationalities have pedaled up to my door.  All have been very grateful for the hospitality. All but one has signed my guest book and let me take their picture to add to my photo album. Each contributed a story or two to an evening's conversation. All would be welcome to stay here again. 
But a handful of guests have gone beyond the one-night stand and become friends for life. Something clicked between us, and we have continued to stay in touch long after their rides were over. Here are some of the connections Warmshowers has allowed me to make.
Tyler was nearing the end of a southern tier, eastern seaboard, and back along the northern tier to his final destination of Chicago, where he would establish a new home with his girlfriend. He was riding in poor weather, which delayed his arrival by a day. He apologized for the change of plans, and I assured him that as a host, I knew things that are totally out of a biker's control happen, and I would roll with the changes too.  
The afternoon of his arrival, I got a call from two riders apologizing for the last-minute request to stay that night. They, too, were battling a headwind and light rain. I told them that Tyler was already on his way, but there would be room and a meal for them also. While Michael and I finalized the details over the phone, I heard him yell, "Are you Tyler?" "Yes, I am, but how do you know my name?" Tyler replied.  "I am talking to your host Kevin right now," was Michael's response. So, the three of them pedaled up together. I had stopped at the grocery to stretch the meal for four instead of two.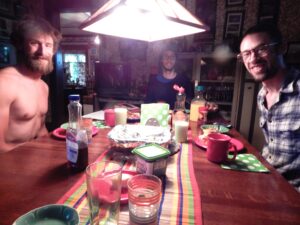 After a hearty meal, the four of us got in the hot tub, a bit cozy but a great place to share stories and dreams. They pedaled off in the morning. Michael and Bruce onward to the west coast, where Michael was going to officiate at a friend's wedding. Tyler with just a few days left on his epic ride. When he got to Chicago, he thanked me in his Facebook post, and we have stayed in touch since. Twice I have crashed at his place while I visited the Windy City and met his now-wife, Nikki. They have even come back by car and stayed with me at my summer place. We hope to connect again this summer.   
Michael and I have continued to stay in touch. His career has taken him to Europe as a professor, and we traded stories and thoughts. I plan on looking him up when I go back to England in the next couple of years. 
Bill, one of my oldest guests at 69, pedaled up Labor Day weekend and tagged along with a couple of my friends and me to wander a huge cruise in of collector cars in nearby Auburn, IN. He had no idea when he asked to stay that the show was a must-do and was delighted to get to take part. A few years later, I landed in San Francisco and rented a car for a week to explore northern California. I remembered that Bill and his wife lived near Mt Shasta, so I called him and told him I was sort of in his neighborhood.  
He said, "yes, you can stay" before I even asked and without turning around and asking his wife, Kathryn Ann. He gave me tips on what to do while driving north along the coast up into Oregon and back down the central valley. I showed up mid-afternoon on Friday. The garage door was open, and a car was missing. No one answered my knock on the door, so I made myself comfortable on the back deck in the sun. A great view of snow-covered mountains was on display. A half-hour later, a stately woman stepped out on the porch and said, "Are you Kevin?" with her West Virginian drawl. Her next question was "peach or apple?" holding up two homemade pies she had in the freezer and wanted to know which one I wanted for dinner.  Peach was my answer. Bill came out of the backroom. She had been to the grocery. He had been there but napping and did not hear my knock.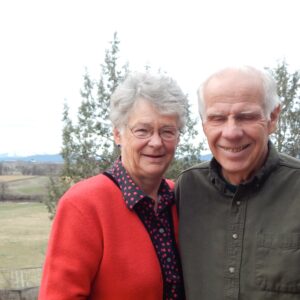 Two fun-filled days with Bill and I hiking, and the 3 of us trading stories ensued. Bill shared about his supported ride in Vietnam and running a half marathon along the Great Wall of China. A pic of him leaping with the wall behind him mounted above his desk had caught my eye. He had done both after he had been to my home riding while from Chicago to New York. I have continued to stay in touch with Bill and check on him when California wildfires make the news.
With COVID in the picture last season, I did not know what to expect. I did end up with 5 riders, all of them from the States. Alex contacted me asking if he could camp in my backyard that evening. I assured him that he was welcome to do that but added that he could instead use my guest room and I would feed him some leftovers from a wedding I was catering. He showed up, and I heated up the leftovers. We began our evening visit with him sharing some of his experiences, both good and bad riding during COVID, Oregon, to Maine to celebrate his 50th birthday. 
It was a Saturday evening, and I told him that I was planning on heading up to my summer place the next morning and stay until Monday. He would be welcome to tag along. He did not even hesitate. His ride was flexible enough to allow a day or two off from pedaling if an opportunity came up. We stashed his bike at my place and headed 35 minutes north to the family cottage my brother, and I share. He met my family, and we went for boat rides and ate meals together. He shared his stories with my nephew, and we all had a great time getting to know one another. On Tuesday morning, he pedaled on eastward. I followed his story online and have kept in touch with him since. We are planning to travel together at some point in the future.  I sent Alex a preliminary copy of this article and he sent me an email suggesting that we meet up in Albuquerque this October.  They crossed in cyberspace neither one of us knowing the other had sent something!   
There are a few more stories of new friends I will share in future articles.  But I wanted to share some of my new lifelong friends I made because 11 years ago, I chose to open my door to anyone who hops on a bicycle and explores the world.