Explorations of new worlds, places and people: these are the incredible moments we experience when spending endless miles in the saddle on a bike tour. There's really nothing quite like soaking in the scents, sounds and sights of a new land.
The Magic of Film to Transport
Even when we can't travel, we can still savor a glimpse of bike touring magic by sinking into the films of Filmed by Bike, a film festival that features the world's best bike movies. Every year Filmed by Bike assembles a collection of independent films from filmmakers all over the world. The film festival specializes in short films – which could include animations, love stories, documentaries and comedies – but Festival Director Ayleen Crotty says they are most often flooded with tales of adventure on two wheels.
"When people are out on a bike tour, whether it's on the road, in an urban setting, exploring small towns or on a rugged trail adventure," Ayleen explains, "they're seeing and interacting with the world in a special way. It is incredible when filmmakers share this experience through film. They allow us, for even just one moment, to join in the journey."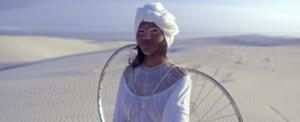 Entertaining Cyclists During the Pandemic
Ayleen says bicycle adventure films have been especially meaningful in the last year as many bike travelers had to put their own adventures on hold during the pandemic. Months of route planning, logistics and gear sorting were paused or stopped short while people opted to stay home to stay safe, or countries didn't allow them to enter. And while those trips will hopefully resume, cyclists eager to hit the open road found solace in Filmed by Bike's specialty movie events.
As soon as the reality of the pandemic sunk in, Filmed by Bike immediately launched a series of YouTube livestream events to offer comfort and solace to the global bicycle community. Not only did they show some of their most inspiring and funny films to entertain people, they also opened up a chat widow during the live broadcasts where bike lovers all over the world could talk about how hard it was to not be on their bikes while the many unknowns of the pandemic were still being investigated.
All of these special movie events are available through the Filmed by Bike website so viewers can watch any time. Filmed by Bike even hosted their entire annual film festival online, which took place in September and can still be seen.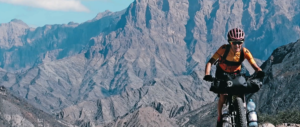 The Silver Linings of a Pandemic
Ayleen says online events have their own kind of magic, and she's looking forward to this year's festival, which will once again be hosted live on YouTube: May 20-23.
"Last year was hard in so many ways, but the silver lining for us is that we were able to unite the global bike community with the entertainment they were craving, and hone our livestream process," Ayleen says. "This year we are showing 60 films from 14 countries, and viewers can tune in no matter where they live and ride. Filmmakers from all over the world will join us live on the virtual stage. I think that's pretty special."
Over the course of two weeks, Filmed by Bike will host pre-festival events such as filmmaker interviews, cycling conversations and a filmmaker social, then three days of bicycle movies split into six distinct programs. Ayleen says Warmshowers members will particularly enjoy the Adventure Night program (Saturday, May 22 at 8pm PST), which features tales of adventure on the rugged road. Viewers can watch live or later.
Films range in style, length and subject matter. There's a little something for everyone in this year's collection, and many of the films share hopeful tales of a better world by bicycle. The heartwarming film "Ride That Dream" by Shane Sykes of Washoe Valley, Nevada tells the true story of a mom, dad and their six children who sell all their possessions and hit the road to learn about life while bike touring for a year. Viewers will ride along the route of mishaps and adventures as the family is forced to work together to get through the tough times, and is awarded many special moments they will cherish forever.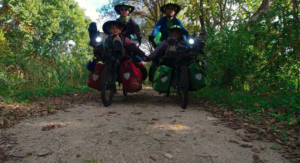 DETAILS
Tickets for the 19th Annual Filmed by Bike are now on sale.
$10 – Individual tickets
$50 – A Festival Pass grants unlimited access to all events and showtimes
$5 – Raffle Tickets with a drawing for 2 winners atRide That Dream – Shane Sykes, USA
every showtime. Proceeds benefit Filmed by Bike's BIPOC Filmmaker Grant Fund, which awards cash cash grants to emerging filmmakers who are Black, Indigenous and People of Color.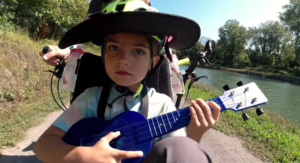 Films can be watched live where viewers can participate in a lively chat, or later at one's own leisure for up to one month.