Contributor: Phil Blumenkrantz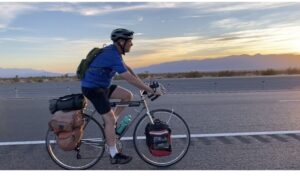 I'm suffering separation anxiety – not from a girlfriend or job or my recently-deceased cat.

From my Panasonic PT-3500.

It's been six months since I parted ways with the touring bike I'd ridden almost exclusively since the mid-80s. My sense of loss hasn't softened.

Each time I would complete a trip, I would tell myself it would be the last on a bike with 35-year-old technology. Yet come the next ride, I'd invariably find myself on the same geezer.

There were reasons for my reticence. I am mechanically disinclined. It took me 25 years to learn – more like make – an uneasy peace with the bike's mechanics. This old dog – me, not the bike – was not about to learn new tricks. I'd kept the relationship alive through makeshift repairs that added up to well more than the cost of a new bicycle.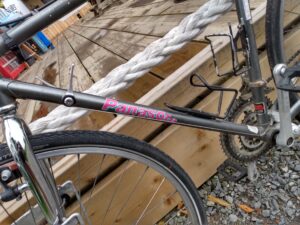 Spokes, as my friend Fred called him – the name oddly stuck – had been my trusty companion for 15,000-plus miles of touring. We survived 110-degree spring days in Shamrock, Texas, summer hail in Creole, Louisiana; a dust-up with a Chevy Silverado in Traverse City, Michigan; a nasty fall outside of Cranberry Portage, Manitoba. Spokes was treated coarsely by countless air cargo personnel and, worse, by decades of my own inattention to basic maintenance.

Spokes was my ally, associate, accomplice, cuz, confederate, constant. My partner in long-distance cycling crime. My Sancho Panza and Tonto. Girlfriends, philosophies of life, careers might come and go, but Spokes remained.

Yes, there were occasional others. I had a fling in 2018, stepping out between Laredo, TX., and Minot, N.D., with a saucy Kona Sutra. Spokes would get his revenge two years later after I loaded him onto a truck for parts west. The country shut down for the pandemic, leaving no options for delivery. Spokes toured the nation and back without me.

So why break up now? For one thing, cold hard cash. It would cost $650 to ship Spokes home from my latest ride – well more than Spokes' likely value. Also, the realist in me knew that Spokes, who was on life support, would never survive mountainous Baja Mexico, where I plan to ride in 2023.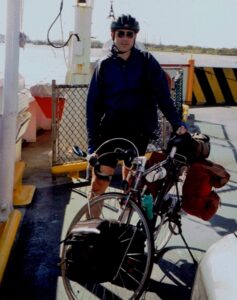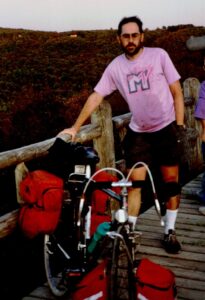 It's July. I'm readying Spokes for a ride across British Columbia. "Taking that again? "my mechanic asks?


"That bike doesn't owe you anything," says my 98-year-old mom. "Do you need money?"

I resolve to sell Spokes when I reach the ride's terminus in Prince Rupert. I'm not looking to get rich only to find Spokes a good second home.

I ask for a suggested price on my go-to bike touring website. All I get are insults.

"You have an old bike with no special cachet in so-so condition," says one poster.

"Ride it to the bus/train station and leave it unlocked with a "free to good home" sign on it," suggests another. Not helpful.

I wind up hitting pay dirt. Not only is the owner of the only bike shop in Prince Rupert offering me $200 – double the doubters' estimates – but he appreciates vintage bikes. He promises to restore my charge while maintaining its dignity.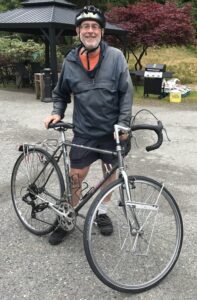 It's time for Spokes' last hurrah. I ship Spokes to Prince George and head west on the Yellowhead Highway. All I'm asking for is 500 final miles.

The ride – snow-topped mountains and totem-strewn First Nation villages aside – is no joy. Shifting into climbing gears is more of an art than a science. Actually, more like an act of faith. The front and rear derailleurs are no longer speaking to each other. The chain is fatigued beyond hope of redemption.

I make it, as I always do. As we always do. I take a ceremonial final ride around the port town's hilly streets. Then another. Separation is difficult.

I meet the owner of Chucky's Cycle Shop at the Totem Lodge Motel near the ferry landing. We talk bikes, bike touring, and Spokes' history. We exchange contacts and money.

Then, Spokes is gone. There's no longer a bike in my room at the Totem. Panniers, a pump, a helmet – but no bike. I find my way home without him.

I'm far from the only one to have had a relationship with a bicycle. "The pangs of gratitude and affection I feel for my bike, and for bikes in general, are deeper than those I harbor for any other inanimate thing and, if I am being honest, for all but a few animated ones," writes Jody Rosen in Two Wheels Good – the History and Mystery of the Bicycle.

For me, there are only bike trips and periods between bike trips. Everything else is incidental. It's hard for me to say where the bicycle ends and the bicyclist begins. Spokes was my fifth appendage.

I e-mail Chucky, who reassures me. "I am still the owner and plan to keep it and ride it next season. It will live on. . . with me."

I'm eyeing a Trek 520 for my next act. Better brakes, better gears, better placed gears, better frame geometry. Better everything.

But no Spokes.

You can connect with Phil via email here: mniteoil@gmail.com.