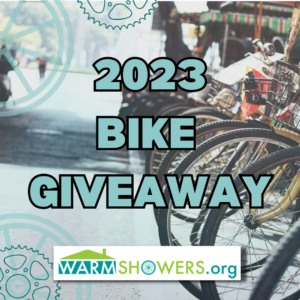 2023 Bike Giveaway – Win the Bike of YOUR CHOICE
The annual Warmshowers Bike Giveaway is here! Enter to win the bike of YOUR CHOICE (valued at up to $2000 USD). You pick the bike, and we will take care of the rest. 
Entering is easy; just donate to Warmshowers today! Donations made between May 15th and June 25th, 2023, will automatically earn one entry into the drawing. 
ONE world, TWO wheels, THREE reasons to donate
Keep our technology running smoothly.

Your donation helps maintain our organization and allows us to continuously improve our technology, which supports our vision of growing the community.



Benefit directly from your donation.

Any time you reach out to a host, use the forum or request help from our community, you'll feel the benefits of contributing.

You could win a bike!

During the next six weeks only, your donation doubles as a chance to WIN our giveaway prize — $2000 toward the bike of your choice.
How to enter: 
Make a donation

. Your donations are essential to keeping our technology and organization moving forward. Thank you! (Must be a donation; new registrations and app purchases do not count as an entry.)

If you cannot donate today, you can enter the drawing by mailing a postcard with your username to the address at the bottom of this newsletter.

Entries must be postmarked by June 25, 2023, or earlier to be eligible.

(A cash donation is not required to enter the drawing.)
Giveaway Rules: Sending emails or using the "Contact Us" form on our website do not count as an entry. To enter the drawing, you must be a current user (yes, we will check). Warmshowers will pay up to $2000 USD, including tax and shipping, towards the bike chosen by the winner. The giveaway ends on June 25, 2023.