Contributor: Alison Alsup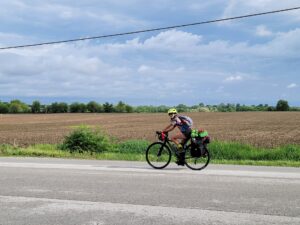 In the summer of 2021, when I was 20 years old, I took a Greyhound bus from Columbus, Ohio, to Seattle, Washington. The three-day bus trip included me barfing on the pavement at the Minneapolis station, being offered hard candy "for a good time" in Billings, Montana, and disgusting motion sickness through Idaho. But my journal entries were about the incredible sunrises over the lakes in Minnesota, the rock formations around the Badlands in South Dakota, and the unforgettable sunsets in Wyoming. I loved seeing the vast American scenery unfold before me- I just wished I could travel through it more slowly.
In 2022, I saved a portion of each paycheck from my fast-food job that I work during the school year in Cleveland, Ohio, and bought a bike. It was a Jamis Renegade A-1, and I decided that I was going to try to bike to Colorado. I got a summer job building hiking trails in June, but school ended at the beginning of May. What was I supposed to do for a whole month? I could try to bike there! It's slower than a Greyhound bus- the scenery wouldn't look so blurry.
I thought my idea was genius. I just have to move my legs. And I get to be alone and outside!
According to most of my peers and family members, this idea was ridiculously flawed. As May neared, my mom began to call me almost daily stressfully. "Alison, the neighbors said you aren't going to make it!" I had a classmate cross her arms and click her tongue when I said I'd try to bike to Colorado after finals. "We'll see." Everyone I told my perfect plan to seemed to have something doubtful to say.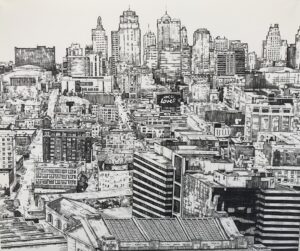 On Saturday, May 7th, I left my apartment in Cleveland around 6am. It was just me and my loaded bike. I was so excited that I didn't finish breakfast.
During my 20-day solo bike trip, I was encouraged by the most beautiful strangers. On my first day, I hitchhiked across a highly trafficked bridge over Sandusky Bay in Northeastern Ohio to get to the peninsula on the other side. An incredible man named JJ Earhart- yes, a distant relative of Amelia Earhart herself- drove me across the bridge to Catawba Island, where he paid for my ferry ticket so I could spend a night at the South Bass Island Campground in Lake Erie.
On day two, a young cashier at a gas station in Toledo refused to charge me for my snacks. She was upset that she had to work on Mother's Day while her 9-month-old son was at home, but she wanted to give a little happiness to somebody else.
I can probably recall a nice stranger from every day.
Of course, I can't even count how many amazing memories I have about the Warmshowers hosts, that provided me with a place to stay during my adventure. And to my relief, not one person I stayed with told me I couldn't do it.
With about 1,004 miles behind me, I began to run out of time before the first day of my summer job. I made it to Lawrence, Kansas, where I took a bus to Denver to spend a few days with a friend before bussing to Steamboat Springs, Colorado. Funnily, I wasn't upset about not making it to Colorado on my bike. Maybe I should have been embarrassed. I told people I was trying to bike from Cleveland, Ohio, to Steamboat Springs, Colorado, and I only got to Kansas. But I didn't meditate too much on it. All I could think about was the 20 days I had been on the bike. I loved every single moment. The hours I spent by myself biking along a flat stretch in Indiana, the moments in Illinois when raccoons, deer, geese, and beaver shared the trail with me, and the nights when I fell asleep with my tent open so that I could see the stars, were what I cared the most about.
I arrived in Colorado and lived in a base camp with 7 guys and 1 other girl on Mt. Elbert. The hike to work started at 3:30am. It was 3 miles with 2,500 ft of elevation gain to the worksite, where we'd push thousands of pounds of rock every day to build a reroute of the trail near the summit. I remember the first few weeks of the job when the hike to work was extremely difficult. Huffing and puffing through the dark while hearing some of my crew mates barfing from altitude sickness felt like the toughest physical thing I had ever done. But on the first hike up, I remember telling myself that going up this mountain was just like biking up one of the steep hills I hit in Illinois or Missouri. It's a slow and steady pace- a rhythm that you don't give up on. Wait, did my bike trip across the American Midwest teach me a skill that I exercised in real life? That's awesome!
Now, I'm back in Cleveland, finishing my senior year at the Cleveland Institute of Art. I've devoted my final body of college work to depicting observational scenes and illustrative narratives about my summer. I'm having an exhibition in March of 2023 at the Massillon Museum in Massillon, Ohio, called Prairies to Peaks: Biking to Colorado's Tallest Mountain. My adventure, especially on the bike, made me realize the importance of sharing the good stories, especially as a young girl who likes to travel alone. I think the world needs a few more stories about showing trust in kind strangers. Encouragement to do something daunting, especially when others are discouraging, is valuable.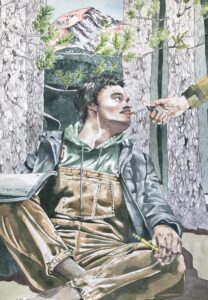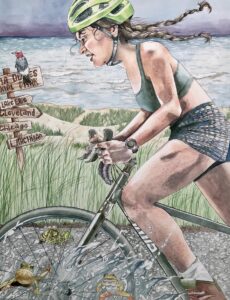 Without the help and kindness I received from strangers and Warmshowers hosts along the way, my trip would have been a lot harder than just moving my legs!
Follow Alison on Instagram at @a.j.alsup