Contributor: Marcus Macdonald
Lying prone on a sack of maize, hitchhiking in the back of a truck in Mozambique, I decided that I needed a new way of travelling. In Malawi, I bought a second-hand bicycle for seventy-five US dollars and a pair of Royal Mail panniers.
For better or worse, when I was in Africa, I cobbled my gear together on the road, where quality consumer goods are few and far between. The other cyclists I met (and there weren't many of them) were sensible grown-ups with waterproof panniers and strong, reliable touring bicycles.
After one too many breakdowns that resulted in me screaming in a psychotic rage at my dilapidated bicycle and countless emergency roadside repairs, including a friendly Malawian using a corn husk to fix my chain and derailleur, I went home and bought a solid touring bicycle and panniers. When I set off through Latin America, I started to meet my fellow cicloviajeros again, but the roles had been reversed. I was now sporting cleated sandals and bulletproof tires; an Argentinian couple were riding bicycles they bought for five hundred pesos – roughly 25 US dollars. Mexicans, Costa Ricans, Argentinians, and Colombians were traversing the continent (in that mythical pre-pandemic age that was 2019) with varying amounts of money (somewhere between some spare change and literally zero dollars), bicycles you would hesitate to give to your teenager due to safety concerns, bizarre homemade panniers, precariously mounted racks and smiles as broad as the horizon.
While other articles about bikepacking on a budget might include instructions for making your own frame bag out of specialty ripstop fabric, point you to the strongest wheels you can build yourself, or suggest using a dry sack as a seat bag, this is not one of them. This is a tribute to the kookiest setups you can possibly imagine. To cheap bicycles that are too big or too small. To the buckets, backpacks, and kitchen utensils. To the homemade heroes, who make do with what they have.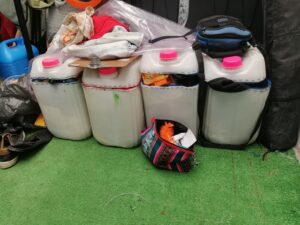 Alexis and Lucia were a fine introduction to this brilliant succession of intrepid homemade explorers. They were the aforementioned Argentinian couple riding absurdly cheap bicycles and having the time of their lives. Their handlebars were heavily rusted, their tires were balding, and one of their wheels didn't sit in the right place when I picked the bike up. Yet the piece de resistance of their setup was their panniers. They had not only made them out of buckets, a surprisingly common manufacture in Latin America but had sewn zips into the top for easy access – something I was not even aware was physically possible. They had long dreadlocks and funded their trip by selling homemade bracelets and juggling in the street. They spent weeks in fairly nondescript towns like Tuxtla Gutiérrez, selling their wares in the street to fund their next move. They also spent considerable time hitchhiking due to the unreliability of their bikes. Yet none of this bothered them – they were young, broke, and in love, on an adventure together.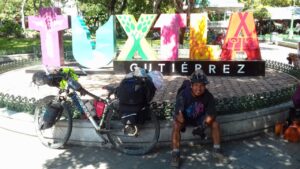 I met Alexis and Lucia in Tuxtla Gutiérrez in the Mexican state of Chiapas and then later in the town of San Cristobal. With a couple of Casa Ciclistas present for hosting cyclists, this turned out to be a hotspot for meeting cyclists who had creative solutions to cobbling together their touring gear. Eliazar from Oaxaca was riding a mountain bike that appeared to be two sizes too big for him. He sighed in exhaustion at the difficulty of dragging his heavily laden machine up the hills of Oaxaca and Chiapas and asked me for my opinion on what he should toss away to lighten the load. I suggested, among other things, the heavy Bible he was carrying in his saddlebags. He even told me he had lost his youthful religiosity – know thy enemy, I suppose. Lightweight hiking stoves are not all that common or affordable in rural Mexico, so to add to the weight, he was carrying a cheap, car-camping propane stove.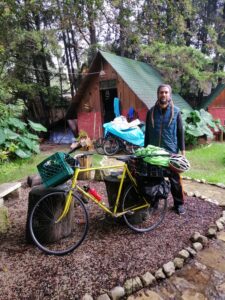 At least he had gears to climb hills, and Mexico is distinctly not flat. Ivan from Brazil was riding a 1970s Schwinn racing bike that would not have looked out of place in a museum and should probably have stayed there. He subsisted almost entirely on weed, avocadoes, bananas, and lentils. His few possessions were piled in plastic crates and precariously tethered to his bike by old tubes. Probably the heaviest thing he was carrying were his voluminous dreadlocks, which grew below his waist. His front chainrings were as big as dinner plates, and he blithely asserted the top chainring didn't work anyway. He told me he preferred the single speed he rode around India on; it was mechanically impeccable. Take that gear inches chart!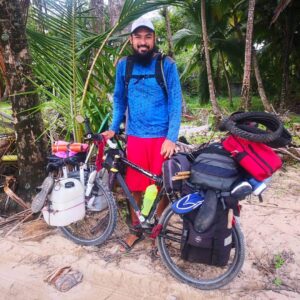 Another few months passed where my fellow travelers were all boringly sensible, with functional bicycles and barely a household item improvising as touring gear in sight. Then, a few days before the pandemic reached Latin America and the world changed forever, I met the fabulous Fernando. This time his bicycle was at least two sizes too small for him; he cycled on his heels in an uncanny impression of Krusty the Clown. The size of his bike was really just the beginning – he had bucket panniers on the front, his rack was hand-welded and partly made from wood. After his camping mat popped, he replaced it with a pool floatie. He was carrying, among other things: a chair, a pillow (not inflatable, just a regular pillow), four pairs of shoes, and a large knife he called "Joe the Bodyguard." Unsurprisingly his bike was manifestly unsuited to carrying such a monstrous load – it was a teenager's mountain bike, the likes of which are no longer made in the West since disc brakes were standardized. Fernando had to abandon the bike as he legged it back to Mexico when the pandemic restrictions started to bite. As Jeremy and I, my fellow sobreviviente from our quarantine in Panama, were idling away the hours at Pipa's beach, taking turns to spin the wheels of Fernando's mighty steed, we gaped in disbelief; the wheels were so buckled they were waving from side to side like a formula one traffic controller.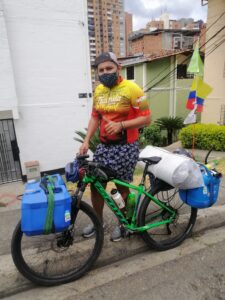 The pandemic may have curtailed cross-continental adventures, but the crazies are still out there, pounding the hills with their homemade monsters, just in a slightly smaller radius. Catholicism may still technically be the religion of the majority of Colombia, but cycling is not far behind. The young Colombian lads were not to be left out. Juan, Jorge, and Esteban had their racks awkwardly clamped to their frames to fit their 29″ wheels. Juan had buckets for panniers on the back, Esteban had them on the front and back. Germán hadn't bothered at all with panniers; he just piled various bags on top of his rack, which was clamped to a barely modified road bike. None of them seemed to have heard of inflatable camping mats; there always seemed to be a small bed protruding on top of the luggage. This may have been a financial decision, but I suspect it was a matter of priorities; the Colombian lads were always cyclists first and campers a distant second. They might be making do with beach shelters, foam mats, and threadbare blankets, but the cycling uniform of jerseys, caps, clip-ins, and knicks is non-negotiable. One needs to look the part.
One might say these guys are beginners, and they will just upgrade with accumulated knowledge and kinder financial circumstances. That may be partly true, but their attitudes were magnificent. I found myself tearing my hair out in frustration when my original "Supersonic Rocket Ship" fell to pieces constantly; Fernando just shrugged and smiled when his front axle broke and an old lady gave him a new one and her blessings as a gift. Alexis and Lucía arrived in San Cristobal in a truck with big grins plastered on their faces. Eliazar was smiling in disbelief that he could finally travel his own country for the first time; a Colombian friend Juan Pablo fulfilled his dream to see the sea for the first time when he hopped on his road bike and pedaled from Bogotá to Santa Marta. Maybe we should all practice mindfulness and meditation before we buy more expensive gear. And even with a highly sophisticated, expensive bikepacking setup, chains will wear and rust, bags will lose their waterproofing, and tires will puncture. As Homer Simpson once said, "possessions are fleeting".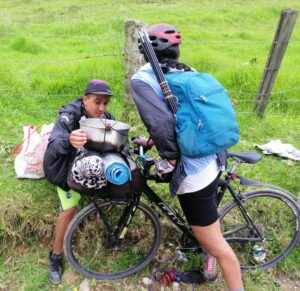 I write this from Bogota in Colombia, largely failing to practice my own Zen patience. Despite my bike being made from chromoly steel, the frame recently cracked on a crucial, central weld. One can rage and curse one's bad luck, that the "unbreakable" has broken, or applaud one's foresight for buying a steel bike that could be easily repaired in such a rare situation. I had it professionally fixed for an absurdly low price by a local welder. I subsequently went camping with Germán and his friends near Bogotá. I was the only person with a waterproof tent and a stove. And it rained a lot. Everyone else had to walk their road bikes up the rough dirt road. Juanito had an unnecessarily large pot strapped to his front rack to make soup on a campfire in the rain. And everyone was laughing, drinking, smoking, and joking. As long as you are rolling on two wheels of any description, life is good.