Contributor: Tim Swain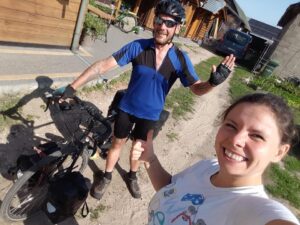 Days: 337
Countries: 15
Kilometers: 9455
Tip: When things go wrong, don't panic!
I was chilling out at a campsite in Kiev, and my mate Al had left to go home. I was planning on heading to Chernobyl, but I decided I didn't want to as all you could do was cycle to the exclusion zone, which would mean a 110km detour to see not much. The only way to visit Chernobyl would have been to book a tour, but as it turned out, they are expensive. So I changed the plan and headed across Ukraine to Poland to pick up the Green Velo route that I'd heard lots of good things about.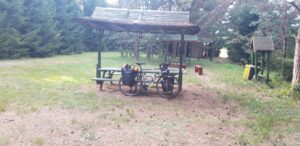 After an arduous 6-hour border crossing which involved hanging a left across the border and having every pannier searched, I was in Poland. It turned out to have an added bonus as the Polish border guard lady liked me a fair bit. She noticed I had a birthday coming up in 10 days' time so asked if I would like to come to her house to celebrate my birthday. I politely refused by asking if she lived around 200km from the border; she stamped my passport and said no.
Schengen stamp for my friend.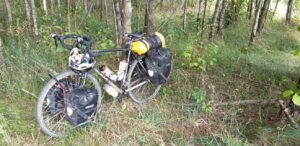 The first thing I noticed about Poland was how considerate the motorists are; they give you a ton of room when overtaking and wait a respectable distance behind, waiting for it to be safe to overtake. They also have very well-maintained and signposted cycle paths along most of the main roads, and nearly all roads come to think about it. The people are also amazing. Everyone I met took a great interest as to why and what I was doing in Poland.
The Green Velo route is interesting and beautiful. It's a mix of smooth cycle paths, rickety country roads, gravel roads, deep sand, and some rough tracks. The route takes you through lush forests, mostly open rolling countryside with fields of yet more wheat, and through villages and hamlets. By the time I got to Bialystok, I'd had enough of the Green Velo route and headed for a Warmshowers host to the north of the town.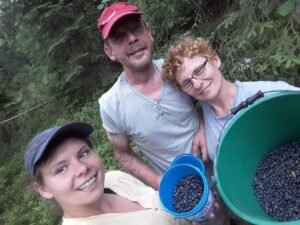 The hosts were amazing. The first day I was there, we went blueberry picking, and I learned how to make blueberry pierogi (Polish dumplings). I was invited to stay another day, where I was taken into the bakery and put to work making cinnamon rolls and cakes. The next day I took the nice and smooth cycle running along the main road route up to the Lithuanian border.
Lithuania is the land of the gravel road.
The border crossing into Lithuania was so easy; no border control, no checks, no nothing. After Poland, I had planned on avoiding gravel roads but as it turned out, cycling the main roads in Lithuania is like trying to commit suicide. So gravel roads it was.
Now, these gravel roads are like nothing I've ever encountered, full of washboard and deep gravel most of the time. I had learned to ride the edges, but this was dangerous as the edges are worse than the road itself in Lithuania. Now Lithuania is by no means flat; it's rolling countryside. Full of barely and forests, which I suppose made a change from wheat, but again boring, when I'd seen much of the same for weeks on end. The good thing about Lithuania is that every village has a shop so stocking up on the most important supply (beer and water) is very easy. However, hardly anyone speaks English, French or Spanish, but I made do. (Got to love Google translate).
Latvia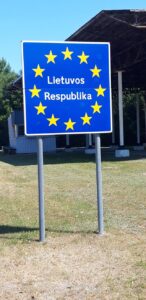 Again, crossing into Latvia was easy and just the same as the last border crossing. The only difference between Latvia and Lithuania is people speak English. Oh, and it started to rain most days, and I discovered that wet gravel roads make me aggressive.
Estonia
Again, I would say just like Lithuania and Latvia, with more wet gravel roads and much the same scenery intact, it's not changed from Romania.
So, for now, I'm in Tallinn and will be getting the ferry to Finland tomorrow. Now, what can I say about Tallinn? Well, it's no Burges. Tallinn is just way too touristy. There's too much ye oldie this and that about the place, people in fake medieval costumes. Also, it is super expensive, from what I can see, not that much to offer. Burges is lovely, small, and full of real medieval buildings with overhangs and small meandering streets where Tallinn just looks and feels fake.