Contributor: Franz Jörg Richter
I'm 62 years old, from Würzburg, Germany. The Covid pandemic and now the war in Ukraine have highlighted a singular fact: Life is short. And it can be even shorter for kids with rare diseases, who often endure years of agonizing medical tests and doctor visits just to figure out what disease they have.
These kids are just like every other boy or girl in their neighborhood or in their classroom. They laugh. They like playing with toys and video games. The difference is that they have a health challenge that doctors have incredible difficulty diagnosing and treating. Unfortunately, those health issues can affect their quality of life and can even be terminal. It's unacceptable.
When it comes to common diseases such as cancer, patients will often come across others that they can relate to and who understand their struggles. But with a rare disease, the kids and their families endure their journey alone. It can be very isolating.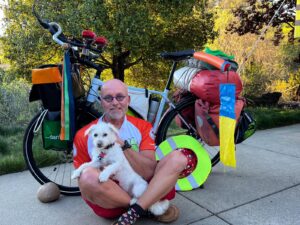 So I've just set out on my third cross-country solo cycling tour of the USA to raise awareness of kids suffering from rare diseases. I started outside of San Francisco and will end in Boston in five months (give or take). I'll be riding through major cities like Phoenix, Tucson, Albuquerque, Denver, Fargo, Minneapolis, Kansas City, St. Louis, Greensboro, Washington DC, and New York, but I will spend most of my time riding the side roads. I'm planning on riding 50-70 miles per day, but that all depends on road conditions, altitude, temperature, etc.
Actually, I don't ride completely alone – my trusty stuffed animal friend Benjamin has ridden with me on every ride since 2017, and he'll be with me this time, too!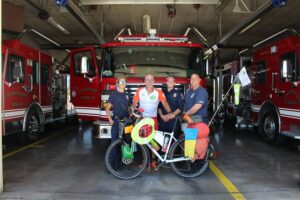 I'm a former volunteer firefighter, so I'm relying heavily on firehouses across the US for shelter and companionship and, of course, the Warmshowers community. I've hosted members at my home in Germany and enjoyed every encounter.
People in America always comment on the fact that I have seen and will see parts of the country that even Americans have never seen. It is such a beautiful country! But I've done these long trips in Europe, too: In 2017, I rode from Munich to Madrid; in 2019, I went clockwise around Europe, through Austria, Switzerland, France, Luxembourg, Belgium, Netherlands, Denmark, Poland, and the Czech Republic; in 2020, I rode through all of the German states; and in 2021, I rode from Marseille to Munich.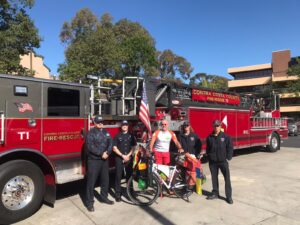 I'll be riding my CUBE bike every day on my own in solidarity with these brave kids. I already know there will be more difficult days than others, but I can't stop because these children need people to know about what they're going through. This is a fundraising trip supporting Care-for-Rare America – I'd be so incredibly grateful if members of the Warmshowers community donated HERE. Every dollar helps!
I'm also hoping to show that even "old" people can fulfill their dreams! You're never too old to do crazy and adventurous things. Never postpone a dream, and ALWAYS stay mentally alert and open-minded about the world!
You can follow Franz on Instagram at @franz.joerg.richter, on Twitter at Care-for-Rare America, or on Facebook.