Contributor: Dave Turnbull
Having recently been surgically relieved of my bladder after a year's failed chemotherapy, I knew the best way to recover my sense of wellbeing was to take to the road on my trusty 24year old TREK 520.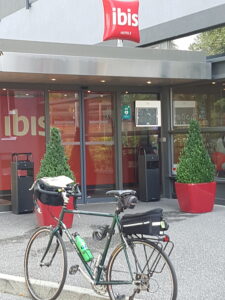 As an Australian interested in history, I decided to fly to Geneva and cycle to Roma via the excellent bike paths through Switzerland, Austria, and Italy, taking in some Alpine passes like the Stelvio and Trei Croci near Cortina DÁmpezzo. I'd have to stay in hotels as my amputation requires an overnight drainage bag which will only operate properly with a raised bed.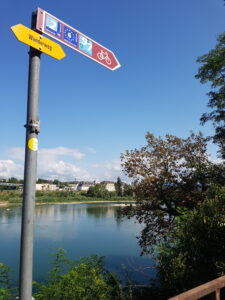 This was not such a bad thing considering I'd just turned 62, and everyone in Canberra thought I was a bit folle, as the French might say. Being vegetarian, the hotel food became fabulouser and fabulouser as I moved slowly south over my allotted 12 weeks—the local chef's working hard to impress. The artworks and museums also. I tried to maintain around 50ks a day and used my Samsung Galaxy Note to book the night's accommodation, blog, bank, and communicate with my aged parents back home.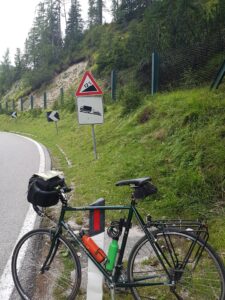 Along the way, I met many interesting cyclists, scaled mountains and sailed ancient swamps, found Dante, learned how to use sage at the hands of a pasta chef, toured old Roma with a cycling group, raced 120ks in the Gran Fondo da Roma, and had my TREK break and be re-welded by a young man in Bolzano. The lesson learned: ride steel; it's repairable.
Despite all my initial misgivings, I discovered it could be done, and the details can be found in my blog Free Wheelin' or at Crazy Guy On A Bike.