Contributor: Alan Wechsler
As a long-distance cyclist, I frequently host other bicycle tourists who ride through town. Albany, New York in the USA is the crossroads of two well-known routes, one from Buffalo to Boston and the other from New York City to Montreal, and cyclists with saddlebags and camping gear often pass by.
Over the past decade, I've met cyclists from all over the world, and it's always fun to hear about their adventures. But I've never gotten a request in January. Until earlier this year.
That's when I got the following message from a 29-year-old man named Chen from Warmshowers: "Hi. I'm a cyclist from China and my trip started in Xi'an City. I'm cycling around the world since 2015, this time come from Miami … may I have a rest for 1 or 2 nights?"
Anybody who had been on a bike for six years was a person I just had to talk to. After looking at his profile, I found that dozens of people had already hosted him and spoke highly of his company. So, I invited him to stay.
Chen showed up at about 6 p.m. on Friday, Jan. 7. It had been snowing that day, and his bike was covered in road salt and sand. Despite having spent a day in full-on winter conditions, he was cheerful and energetic as he pulled dry clothes from his saddlebags and followed me up from my garage. However, he did spend the rest of the night chugging glasses of hot tea to warm up.
"The cold doesn't bother me," he insisted as he settled in. "Xi'an has weather just like this, four seasons. We even have skiing, but it's not for me." Chen spoke excellent English, with a moderate accent, although occasionally he resorted to Google Translate when he couldn't think of a word or didn't understand something I said.
Xi'an (shee-AN) is a large city in central China, famous for the Terracotta Warriors that were built to guard the tomb of a long-dead emperor. After Chen graduated from school there, he got a job working as a computer designer for a manufacturer of ceramics.
But the desk life wasn't for him. After three years, he bought a bike and cycling gear and, despite the protests of his parents, set off on the road. He traveled all around China, one of the largest countries in the world. Several times, he headed into the mountains of Tibet, where the roads surpass 17,000 feet. After a year, he went west into Kazakhstan, and then north to Russia. From there, he headed into the heart of Europe.
It was not all smooth riding. In France, he somehow fell 10 feet off a bridge – the details were never very clear to me – and broke both wrists. He returned to China to heal but then headed to Africa. In Tanzania, he was bitten by a dog and had to spend a day riding from village to village until he found a hospital with a rabies vaccine. Twice people attempted to rob him, but he was able to chase them away.
From South Africa, he flew to South America and toured down the east coast of Brazil to Argentina, around Patagonia and Terra del Fuego, up through Chile and into Peru. In October he flew to Miami and headed north.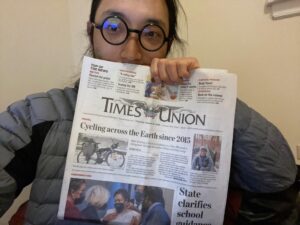 A day after Chen arrived, I took him on a hike in the Catskills and introduced him to a friend who writes for the Times Union newspaper and wanted to interview him. He was supposed to leave the next day, but with an ice storm coming he (wisely) agreed to stay until Monday. We went to the New York State Museum and he spent two hours preparing a delicious Chinese noodle dish from scratch.
It was a pleasure hearing his stories from the road. I've had plenty of travel in other countries, including some by bike, and I was very impressed by his laid-back attitude and ability to get along in places where he didn't speak a word of the local language.
He told us he doesn't want to ride forever. At some point, he'll be ready to hang up his bike, go back home to China, get a job, and start a family. He also wants to write a novel. It would be a multi-generational story about a Chinese family. He says he works on the story in his head as he rides.
But for the short term, he'll keep going until his money runs out. "My only plan," he said, "is no plan."
The next day, with temps in the low 20s, he loaded up his bike and headed off into the cold. I'll be thinking of him during these deep winter days to come – and be glad I'm not with him!