Contributors: Laura Schlegel and Benjamin Fischer
What is Mikulici Nature Park? It's a real-life platform for the cultural and intergenerational exchange of ideas and experiences, a space for your social and ecological projects to form and grow, a shelter for eco-friendly bicycle travelers, and a place to learn about and learn from Balcan village life.
It's also the home to longtime Warmshowers host Marco Bradvica.
Four thousand travelers or more, most of them on bicycles, have set up camp in Mikulići Nature Park since its founding in the 1990s. Marko says, "I've never charged anyone for staying. I am too old to travel the world, so I let the world stay with me. And besides, everybody contributes in their own way."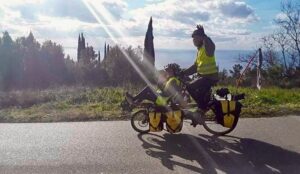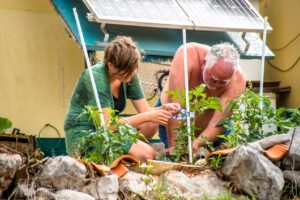 And that is true. When you look around the park in the summertime, you always find someone cutting the bushes, planting seeds, or building a hut. Or rather, you used to see all of this. During the pandemic, there were fewer bicycle travelers and less help. Also, Marko may have an enviable amount of energy for his age, but he is 83 nonetheless. 'Now I need help," Marko admits without shame. 'I am looking for a new generation – a person, a couple, or a group of people–to live here, take care of the park and share my dream," Marko says.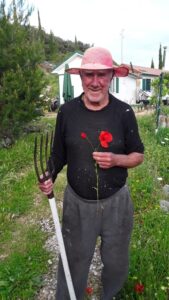 The 83-year-old has created a beautiful environment that can still grow. Permaculture farming, green energy, learning platform, eco-tourism, cultural and historical education center, self-sufficient community living, a star observatory – all ideas are welcome. Even more welcome are people from the Warmshowers community who want to make these dreams a reality. The only non-negotiable thing: hosting bicycle guests for free. The sky is the limit in Mikulići Nature Park if you make it so. And there are a lot of stars to be seen from Marko's hill.
What the project also needs is money. In the spirit of Warmshowers, Marko lets people stay for free, but it is plain that he has to live on something as well. Providing the project's founder with everyday necessities of life is vital so he can keep Mikulići Nature Park going as it is – non-profit.
So whether you stayed here before and feel like giving a little bit back for the great experience, or you've never cycled to Mikulići (which you absolutely should do in the future) – either way, please, help Marko and the project.
For more information, please visit Mikulici Nature Park on Facebook.