Contributor: Matt Davidson
When I tour, I am all about enjoying the outdoors, meeting new people, absorbing new smells, and seeing amazing sights which may not be accessible on a car vacation. And there's nothing like the experience of bicycle touring at 10 mph and taking it all in.
Prior to starting my adventure, I trained almost daily for two months with gallon jugs of water in my panniers. I frequently rode along a nearly flat dedicated bike path (Murdock Canal Trail) and regularly climbed the 1,000-foot Suncrest mountain pass between Lehi and Draper, UT. My skinny chicken legs were ready and accustomed for days that reached 75 miles carrying 40 lbs. without feeling cramped and spent.
Along with getting physically ready, I wanted to be sure that my well-worn Trek520 didn't encounter any problems. Mechanically, I spent at least 10-20 hours in total going over my bicycle, ensuring that my brakes, cables, gear shifting, tires, and lubrication were tour-ready or replaced and new. I had an expert bike mechanic give the bike an overall review at a local bike shop as a final check.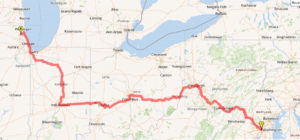 Where to go? A friend tipped me off to the Eastern Express tour, so I decided to give it a try. I modified the overall route and targeted 1,200 miles between Washington, DC and Chicago, Illinois, eventually averaging about 50 miles per day, with a handful of zero-mile R&R days thrown in for good measure.
On this tour, I traveled solo and relied on camping, hotels, and most importantly, Warmshowers. Everyone has a unique pace and style when touring – not necessarily better than other styles, just different. However, traveling by myself let me set my own schedule, pace, and route itinerary. And certainly, meeting other bicyclists on tour and sharing the road added even more variety to each day.
Additionally, not having each day's stop exactly planned out far in advance added to my sense of adventure. Seeing Washington, DC, coupled with a sliver of the Eastern U.S., was the original attraction for my ride. I didn't expect to tour through a history book and have a geographical tutorial unfold on events I had only read about.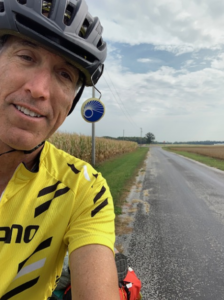 Prior to officially starting the riding portion of my tour, I explored Washington, DC, the center of U.S. government power. I saw major tourist sites, including the White House, Lincoln Memorial, Washington Monument, U.S. Capitol, Supreme Court, Library of Congress, National Gallery, African American, and Holocaust Museums. In hindsight, my complete tour felt like a small part of the back story leading to present day.
My cycling tour began at mile zero along The Chesapeake & Ohio Canal towpath, built by immigrants and slaves between 1828 and 1850. The C&O Canal, with its 77 locks spanning 180 miles, was completed without the benefit of modern diesel-powered hydraulic machinery and is an incredible engineering marvel. I could not help wonder about George Washington and James Monroe's long-term vision when they put the wheels in motion for this transportation pathway. As with all major transportation corridors, towns grew up along the canal. However, these towns soon withered with the emergence of the speed and efficiency of railroad transportation.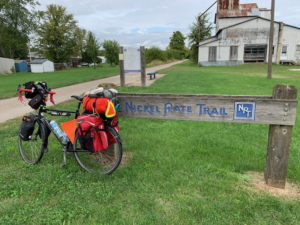 My next chapter of history unfolded starting with Harpers Ferry, West Virginia, the site of a major Civil War battle spanning four days from Sept 11-15 in 1862. My incredible Warmshowers' hosts there prompted my thinking about the region's vast history. Riding along the C&O towpath, I envisioned what it must have been like for the Union and Confederate troops, traversing undeveloped forested areas and trying to stay fed, healthy, and alive in extremely challenging circumstances.
After relatively easy riding along the C&O and Great Allegheny Passage trails, I entered Pittsburgh, Pennsylvania, with another amazing Warmshowers host. Once gritty and shrouded in soot, Pittsburgh played a major role in U.S. history and has now transitioned to a vibrant economic powerhouse with skyscrapers and a diverse economy not solely dependent on steel. Steel was one backbone of the Industrial Revolution that helped grow our country – and somewhat similar to today's tech billionaires Zuckerberg and Bezos, Pittsburgh's shrewd and ruthless steel barons, Carnegie and Frick, played a major role and definitely impacted the country's growth. Historically, the city flourished based on steel production at the apex of the Monongahela and Allegheny Rivers. My tour took me along these waterways that flow through Southwest Pennsylvania and eventually drain into the Ohio River directly at downtown Pittsburgh.
Even today, steel still needs coal, and I cycled past heavily laden river barges floating low and being guided downstream headed for furnaces or coke production. But as coal use declined, so did the towns that depended on coal jobs. Some of the towns I rode past felt like they were hanging on by their fingernails because they had not transitioned to new revenue sources. Wheeling, West Virginia, was once a thriving town visited by Presidents and is now littered with shuttered storefronts. I wondered how long before they built their economy back based on something other than coal?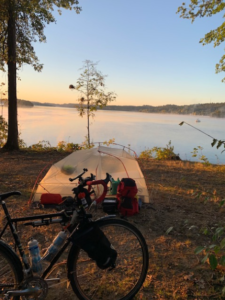 Riding through small towns, I avoided national chain businesses, spending my tourist dollars at local shops and restaurants. There was also a trade-off between carrying my own food that gave me the ability to eat whenever I felt hungry versus riding until the next available diner. My preference was to stop and eat lunch at a relaxing park or viewpoint rather than sitting at a table waiting to be served. Certainly, another benefit of riding solo was wide-open flexibility on when and where I replenished my calories.
Reflecting on the overall tour, it renewed my faith in the underlying goodness that exists in our country. Most of the goodness played out with Warmshowers hosts that made my tour extremely interesting and enabled me to peer into their lives during those stays. I found friendly, generous folks in almost every town. Maybe that's not groundbreaking news, but it certainly felt good and was a refreshing boost to my daily riding.
I avoided political jousting altogether, and when seniors (older than me!) in small towns appeared wary of my lycra-clad presence, I always started conversations with, "I'm touring this great country of ours." That statement seemed to put strangers at ease instantly. Young and old, almost everyone wants to find out more about a Crazy Guy riding through their town.
At the end of the day, every bike tourist wants to experience new situations no matter the challenge, and that's the draw of plotting a new ride and meeting new people. I'm already looking forward to my next tour!
Tour stats:
Unfriendly people: NONE, at least those I encountered!
Great conversations with people while on tour: 30 +
Weight Change: gained 3 lbs (loved the ice cream and pastries!)
Camping Nights: 10
Warmshowers Stays: 12
Hotels: 7
Cars Honking Aggressively while passing: 1
Cars Honking with "Aaahhh-Oooogaaa" horn for fun: 1
Cars Honking to say "Thank You" for moving over: 2
Follow Matt's tour on CrazyGuyOnABike.com, search under "Less Zoom, More Pedaling"