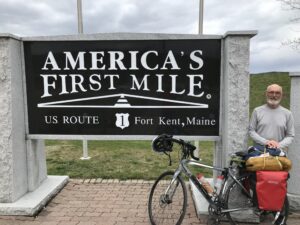 In the summer of 2018, my brother and I pedaled along the Maine coast, from the vicinity of Portland up to Mount Desert Island on another commercial tour.  On the last two days of that ride, I finally began to feel comfortable riding 60 miles a day in very hilly terrain. I don't remember the exact moment, but that was when the idea of riding up the east coast, from Key West to the northern tip of Maine, first took hold.  Phil and Wilson, our two Summer Feet tour guides, both were enthusiastic when I mentioned this ride concept.  My brother, Marc, was significantly less sanguine.  His lack of excitement was shared by my wife, Diane, and virtually all friends and family members when I broached the concept on return to home base in Ohio.  Despite their valid concerns about such a venture's safety, I started serious planning for a spring 2019 departure from Key West, Florida.  I envisioned a glorious but arduous quest.
Why take on this kind of trip? Almost any serious bike rider would be excited about such a ride and not even think to ask why. 
The ones I spoke with before, during, and after the ride all thought it was a splendid idea.  So too, as you might expect, did the mechanics at Bike One in Gahanna and all the other bike stores I visited on the ride. Virtually all the people I met along the way expressed astonished amazement and admiration. However, along with that, from all quarters came the admonition to ride safely.  I understood from the inception of the idea that a good bit of the concern was because of my age.  However, at 75, my age was a major factor in my desire to make an effort to accomplish this ride.
While I felt reasonably bike fit, I was no stranger to the slow but steady accumulation of age-related physical and mental issues that are the price we all pay for the luxury of getting old.  I didn't sit around and worry about any of the above, but they did factor into my decision to go ahead with the ride.  I knew that despite my age-related issues, I was in pretty good condition.  I also knew that the time available to me to undertake a ride like this was limited.  If I was going to do this, I'd better get on with it.  
In April of 2019 I set off for my 42 day, 2,424 mile journey from Key West to America's First Mile in Fort Kent, Maine. Once back home, I had time to think about my trip.  It certainly qualified as a quest, a difficult journey with many challenges and obstacles to overcome. It was unseasonably hot in the south and cold in Quebec. When Siri led me astray down unrideable or nonexistent roads, it was frustrating to have to turn around and retrace my route, especially at the road that wasn't at the Lake Marion dam in South Carolina (However, I have to salute both Siri and Google Maps for the overall excellence they played in getting me from one end of the ride to the other.  It was an overall excellent navigation system. Out of around 20,000 turns along the way, I was only misdirected about 10 times.  Some of those had some significant consequences, but that's not a bad error rate for such a long journey. I would use it again).    
I had serious misgivings on the second day of riding in the Keys into that hot, 25 mile per hour headwind and again a week or so later in North Carolina when my relentless arthritic neck pain was such an issue.  There were hours of grinding up unending hills, some so steep that I had to walk myself and my bike up them. There also were times, especially in Virginia, but also at unexpected places along the ride, where riding was hazardous.  It was so risky in places in Virginia and Maryland that I opted to use Uber to get me past the worst of the traffic.  However, there also were days of spectacular riding when the weather was sunny and warm, and the wind was gentle or pushed me along from behind.  The most iconic day of all was the great 80-mile ride with Bob Wooster from Fort Pierce, Florida, to Cocoa, Florida.  It was worth all the hard times I had already experienced and all the ones to come to have had that fabulous ride with my old riding partner.  It was spectacular to see him riding his American Eagle, both of them still capable of going after a 50-year interval!
It also had been a strong affirmation of the basic decency and kindness of the people I had met along the way. Whenever I had had a problem, someone was there to reach out a hand of support and assistance.  I was safely passed on the roads by thousands and thousands of cars and trucks, and there were just a few that were driven by persons who took offense.  The people I met all were interested in my story and offered advice, directions, and assistance.  Had I been a bit more alert at mile 70 on that bridge in Ormond Beach, Florida, I would have steered around that grate and most likely would have completed the trip on my original Gatorskin tires and avoided the subsequent flat tires and visits to bike shops.  On the other hand, I met some of the nicest people as a result of that incident on the bridge and the subsequent bike shop visits.  
What I shall always remember is: how Dane, the owner of Island Bicycles came in and opened his store when I arrived in Key West even though it was his birthday; the bike mechanic who stopped to fix my tire on the bridge in Ormond Beach; Frank, the man in Yulee, Florida, who gave me a ride to PK's bike shop to repair my next flat tire; Danny Hannigan, my Uber driver in Savannah who took me for lunch at Mrs. Wilks and gave me a tour of the city afterward; the ex-con, self-appointed "concierge" who got me the ride,  and the young man in Greeleyville, South Carolina who drove me the 25 miles to the Palmetto Inn in Manning, South Carolina; the Virginia farmer outside the Subway on US 1 who paid me five dollars forward; Cy and Robin at SB Cyclery in Selinsgrove, Pennsylvania who were delightful to talk to and fixed my bike almost for free; Jill, the owner of the Trout Run Hotel in Trout Run, Pennsylvania who let me stay in her closed hotel out of the kindness of her heart; Frank Watson, the President of Watson Diesel Inc., in Canton, Pennsylvania, who told me about Warm Shower and gave me his business card with his personal number on the back and told me to call him if I ever needed any help; the mysterious lady in New York who gave me her blessing and a hundred dollar bill; the man in New York who volunteered to help me fix my next flat tire; the next man in New York who gave me a ride into the next town after my next flat tire just a few miles further along the road; Guy and Robert, my two friends I met in the bar of the Aux Joyeux Lurons in Quebec province; Pharm, the desk clerk at the Econolodge in Levis, Quebec, and his black Labrador; and, Rick Douglas for his amazing hospitality in driving me down to Presque Isle, buying me lunch, taking me to a functioning bike store and finally to the Aroostook Hospitality Inn at the end of my ride.  There were countless others who showed interest in what I was doing and wished me well.  I also had a large number of family and friends who followed my progress via the FollowMee App and who sent text messages and made frequent phone calls.  
Special thanks and kudos to my wife, Diane, who provided continuing support throughout my ride; who gave me a much-needed pep talk when my neck pain had gotten so bad in North Carolina that I was seriously thinking about quitting; who followed my progress on FollowMee and researched and called me with suggestions about highly rated restaurants that I could stop at for lunch or for dinner; who canceled and rebooked hotel arrangements when necessary; and, checked my routing when I needed additional assistance.  A true friend is one with the honesty to tell you that your idea of such a ride was the stupidest thing I had ever thought of doing, to then becoming a staunch supporter and indispensable aide when I actually got underway.  She is that and more.
The trip began as an idea for an epic ride and a challenge to see if I could actually start and finish it.  I was happy at the end that I had made it to Fort Kent.  However, it had become so much more along the way.  The lobster at the end was delicious, but what I shall savor going forward are the memories of all the kindness and support I met along the way.
Contributor: Mahlon Boyer