When I tell people about my bicycle travels, I often see them wondering, "Why would you do such a thing?"
For me, an important reason is the countless little adventures you bump into on the road. Here is an account of my favorite crazy moments from a 10-day solo cycling trip through France in 2017. If you'd enjoy these, maybe consider going on a bicycle tour as well!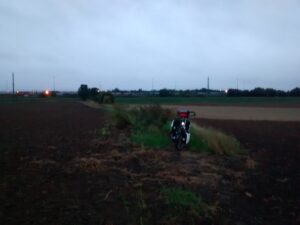 Day 1 – Crossing a plowed field
It was a cold, rainy day, and the sun had just set. My destination, Liège, was still about 10km ahead. I had left late and was longing for food and dry clothes. The village street I was riding on changed into a bumpy hiking path. It went slow but was still feasible.
Then the road suddenly stopped, right in the middle of a plowed and thus extremely muddy field. Directions? Go right through! The first day and I was already covered with mud. Yay!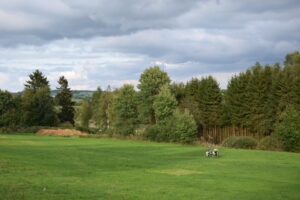 Day 2 – Camping next to a hardcore festival
Ahh, beautiful. A quiet camping place.
Or, not really! I arrived at the camping, Oos Heem, in Eastern Belgium off-season. When I found the proprietor to check myself in, he told me there would be a festival pre-party that night in one of the camping's buildings. The heavy guitars and electro beats in the background proved his words until about 3AM. You could say I enjoyed the music for free from my tent!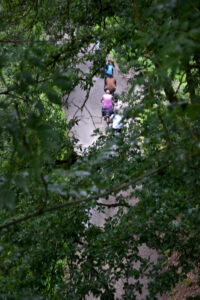 Day 3 – Climbing bridge remnants
From afar, I could spot a mysterious pile of stones between the trees on two hills. When I arrived, they appeared to be the overgrown remnants of a demolished bridge.
High? You could say that. Dangerous? Yes! Fun to climb? Definitely!
Day 4 – Meeting the same guy twice
This was a funny coincidence that requires a little background story.
After cycling a hefty 120km through Luxembourg's hills that day, I arrived in Thionville at about 8PM. I didn't want my hosts in Metz, 35km further down, to receive me very late, so I decided to take the train. However, I couldn't find a way to get a train ticket for my bike from the machine. On the platform, I spotted an absent-looking guy wearing big headphones and a black hoodie from some kind of metal band. Surely, he could help me. He told me bikes could be taken free of charge on the local train. Awesome!
In the 20-minute train ride, we had a little conversation and found we had some things in common! He was a computer science student in the same year as I was. We talked about programming languages and atmospheric black metal bands. When we arrived in Metz, he helped me to get my bike out of the station. There we parted ways after exchanging contact information.
A cozy evening at my host's house passed, and the next day I set off to explore Metz. I was enjoying a burger in a recently opened vegan lunch bar when my newfound friend suddenly strolled in. Guess who likes to eat vegan too?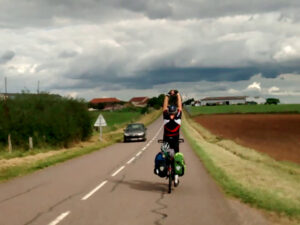 Day 5 – The cycling choir-leader
While cruising through the hilly fields and barely populated towns of rural Grand-Est, I crossed the paths of a man who turned out to be a fellow Belgian citizen! We were following the same route, so we cycled together for the rest of the day.
He was a choir leader at a music academy and had just retired that year. His wife was waiting for him in Venice to attend the Biennale there. While I improved my French, he improved his Dutch. Did you know that "scarecrow" is "épouvantail" in French and "vogelverschikker" in Dutch? He also had some mild daredevil tendencies.
Day 6 – A gloomy swim in a water park
We arrived in a village called Mittersheim during a rainy sunset. The village lay next to a lake, where we found a camping. I went to take some pictures of the sunset in the lake, pitched the tent and cooked dinner. I had spotted a funny collection of water attractions, so after dinner, I set out to climb these things. Some German camping-goers had the same idea. It was fun.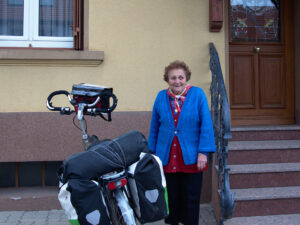 Day 7 – Invited to tea by a confused great-granny
The next morning my tablet functioning as GPS was stolen on the camping. This mixed up my schedule; I had literally lost my way and, temporarily, also my faith in humanity.
This was quickly regained around 6pm in a village called Mittelbronn. I was taking a picture of an abandoned restaurant when I heard a window opening behind me. An old woman was curious about the strange appearance of my bike. After a short conversation through the window with heavy use of gestures, she invited me in for tea. I accepted hesitantly; the city I wanted to reach was still 20km ahead!
I entered a somewhat musty-smelling home full of handcrafted woodwork. Even the fridge was behind a wooden door. She showed me around and told me stories of her late husband and great-grandchildren. She gave me a teabag, but awkwardly, she didn't remember how to make tea! She didn't appear to remember much at all, really. I wondered how she could live by herself this way. After some time, I gleaned that her daughter assisted her during the day and left her by herself in the evenings. I resumed my journey with a piece of bread, a French madeleine cake, an unused teabag, and a smile on my face. Faith in humanity restored.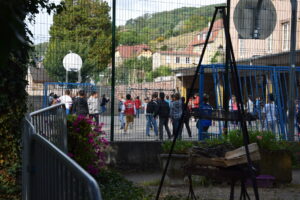 Day 8 – Camping in a school
Ad-hoc planning made me choose camps based on their location. The listing in the GPS only included names and no reviews nor ratings. This makes for unexpected places every time! The municipal camping in Barr I found was just plain weird: its buildings were fused with a primary school. You had to access the sanitary through the school playground.
Day 9 – Getting smuggled into a full camping
When I reached the camping around 9PM, I found that the reception office was already closed. This is usually not a problem: I'd just enter, pitch the tent and pay the next morning. When entering however, I met two Dutch women who told me there was really no space left. They had seen a few people getting sent away earlier that day. But they pitied me, and invited me to cram my tent next to theirs on their pitch.
In order not to get them into trouble, I woke up at 4:30 AM. I quickly packed and sneaked out. Again, cycling in the dark, but now before dawn. It was nice to see the sun rise.
Day 10 – A Crazy Russian near Basel
The evening of the final day a touring cyclist overtook me at high speed, jovially encouraging me to step up the pace. Five minutes later I saw him chilling at the Dreiländereck near Basel, the border between Germany, Swiss and France.
I joined him in his break. He was recording several personal voice mails for friends & family in Moscow. In his fast-spoken Russian I could recognize some city names. In between we talked with my broken German – English was not an option. I learned that he had started his trip in the Netherlands and was heading to Rome. He did an astonishing 150km per day. When he pulled a Red Bull out of his bag to share it with me, I got a feel for how he managed to do that!
Those were some highlights of a trip I'm looking back happily. When doing a cycling tour, it's not usually the destination that provides a good break from the daily grind of life. It's the countless adventures and challenges along the road.
Contributor: Thor Galle