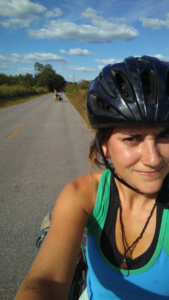 Arriving in New Orleans about four days ago, marks the halfway point of our journey. We have biked some 1600 miles thus far and if we decide to "finish" in San Diego as we have planned, we have about that much to go.
Emma and I left New York City on a cold windy grey day on September 30th, 2016. Since then, we have stopped in many amazing cities along the way, visiting old friends, making new ones, collecting new wonderful knowledge, and different ways of living. We trudged our way through the scary back roads of New Jersey, sailed through the beautiful Amish country of Pennsylvania, pedaled along the narrow Outer Banks of North Carolina, for a few strange and lonely days, island hopping and hearing about hurricane Matthew's rage and weaving through the debris. We fell in love with Richmond, Virginia and got to dance to the rock legends that have been jamming together since the early 80's. We made best friends in Charleston, South Carolina and seriously considered ending our journey there to live with them. 
We camped out on beaches along the Atlantic and swam in the ocean more times than I thought we ever would in October. We found teachers in Savannah, Georgia and fused a strong bond even stronger. We lit an 8-foot-tall fire in the middle of nowhere Georgia with a young musician and his rowdy godfather. We were given food and shelter by kind folk in a church in sweet Homerville, Georgia. We met fellow bikers and friends in a biker hostel in Tallahassee, Florida, where we talked love and never walking shorter than you are for anyone. 
We passed Trump sign after Trump sign in rural countryside's and urban cities. We were housed, fed, and loved by those same sign owners, and we have been confused and hurt, and saddened by the realization of it all. We have been pegged as liberal hippies upon the first sight of us and told by a toothless smiling elderly man he wished we would turn into crabmeat so we could not vote – just before wishing us a good day. We have been given money, food, shelter, respect, awe and genuine love and kindness from complete, total strangers. We have about five new moms we have met since the start of the trip that text us now and again to make sure we are still alive. We have crossed small rivers with our 70-pound bikes and ridden up much too giant passes, talked to at least 25 people every day that ask the same six questions and we have learned to laugh from the depths of our core in moments of total anxiety, pain and discomfort. We have had extraordinary moments of luck and fate aligning in our favor, and days of confusion, hunger and frustration with each other and the road.
And, while most folk that approach us in the middle of our hummus veggie wrap lunch (please send ideas for a new menu) and demand facts and figures – "where are you going? Where did you start? When? How long will it take? Where do you sleep? How many miles a day?" Most people really just want to know why. "Why are you biking across the country?" Are you doing it for a cause? Are you trying to break a record? Is it a personal challenge? At first, we were perplexed by the need for us to have a reason. It became clear to us early on that many we came across were unnerved when we answered that there is no real (or good) reason for deciding to bike all day every day for about four months. It definitely feels selfish, useless, and unhelpful at times, but maybe we're just trying to join the band of "conquers of the useless".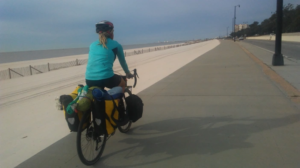 I cannot really imagine continuing onward and being in Austin Texas for thanksgiving, but I cannot imagine stopping either. So, for now, we'll keep feeling the wind, reading the maps and hopefully one day soon we can pay forward the kindness and unconditional generosity we have received thus far. And as for the why, even four years later, as I sit and edit this blog post I wrote four years ago to this day, I still have no real idea, but it was surely the best, scariest, most wonderful thing I have ever done.  
Contributor: Dana Bronstein 
Written November 2016, updated November 2020