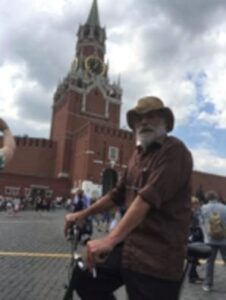 In 1974, I cycled 10,000 km across Central Africa.  I was arrested in Idi Amin's Uganda and sentenced to have my beard removed.  What a cheek!  Next came Zaire (Congo), and on entering a game park, a notice said, "Do not leave your car;" nothing about bicycles, so I carried on.  
I was also incarcerated by the Portuguese in Cabinda; I was trying to by-pass that little enclave by sailing round in a dug-out canoe (with my bicycle loaded on the prow); but they caught me, thinking I was a PLO terrorist.  Then, in Gabon, I ran out of daylight; I was still in the middle of the jungle, miles away from my next stop; so, I stopped anyway, laid out my sleeping bag on the side of the track… and the noise of nature was loud.
* * * * *
Twelve years later, I pedalled across Europe, across the Iron Curtain to Warsaw; I was enroute to Moscow to learn Russian.  From there, in 1989, I cycled to the Ural Mountains.  And in one little village, they told me I was the first foreign visitor since the Poles invaded, some 400 years ago.  
After another year in the Russian capital, I cycled home, via the Balkans.  When I got to the still very closed Albanian border (it was, after all, 1990, and they were only just beginning to open up) I was asked where I'd come from.  "Moscow," said I.  "On that?" they asked, looking at my two-wheeled transport.  I nodded.  "Oh, come on in!"
The Balkans were in trouble.  So, in 1992, I returned as a freelance journalist and cycled across Bosnia, twice, in winter and in war; it was safer on a bicycle.
* * * * *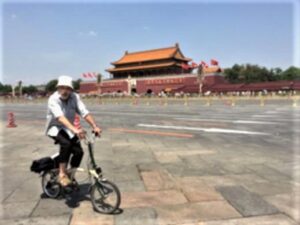 It is indeed a great passport.  In 2017, I went to Beijing, overland, of course, a year-long lecture tour, this time with a fold-up bike.  And having written a book, I did it all again two years later.  By boat, bus, or train from A to B, but whenever I got to the next B, I would unfold the bike – hot or cold: -14 in Urumqi, +34 in Hong Kong – have a look around, and meet the locals,
I went to Gánsū, twice, to stay with friends on an organic farm in a little village, not far from Zhángyē.  The second occasion was this year; they'd invited me to come and celebrate the Chinese New Year, Jan 25th, 2020, the Year of the Rat.  Some rat.  On the day itself, we drank.  On the morrow, we poured alcohol on the ancestors' graves.  And on the next day, bingo – or should I say bìngdú (the Chinese word for coronavirus) – China was in lockdown, the village was closed, the two roads in and out were barricaded, and I was stuck. 
For days?  "Yes definitely," my hosts replied.  Weeks?  "Maybe."  Months?  "Perhaps."  There again, as the old saying goes, "you only ever hear successful stories."
Contributor: Pete Emerson