Contributor: BikeFlights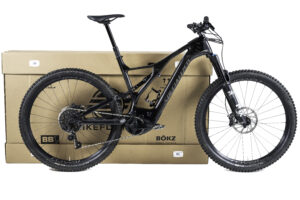 When planning your next U.S.-based bike adventure or your next trip home for the holidays, you may have to make a tough decision: should you take your standard bike or your e-bike?
Thanks to a recent e-bike shipping program update, you can now more easily ship your e-bike within the contiguous U.S. using BikeFlights' bike shipping service.
Shipping an e-bike is similar to shipping a standard bike with a few key exceptions. The biggest difference is that e-bikes have a battery that is dangerous if damaged. E-bikes also tend to be heavier and more difficult to pack due to their wiring, so they typically require bigger, sturdier boxes like the BikeFlights Bike Box Large.
"As more people have purchased e-bikes, the desire to travel with e-bikes has grown," said William Alcorn, President of BikeFlights. "Our simple, new program helps cyclists pack and ship their e-bikes safely and with more confidence."
Previously, BikeFlights allowed complete e-bike shipments only by shippers who had a current hazmat shipping certification. Such certification is no longer required, which makes e-bike shipping more accessible by removing the financial and time costs associated with getting hazmat certified.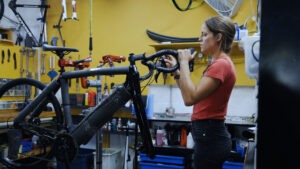 How To Pack & Ship Your E-bike
BikeFlights' e-bike shipping program is for shipping single e-bikes that have their battery either contained within the frame or fully installed. Prior to shipping, you must follow these five e-bike-specific packing instructions:
Lower your e-bike's battery charge to less than 30% to limit cell-to-cell combustion.

Power off your e-bike battery, remove any keys, and ensure that the battery cannot turn "on" during transit.

Protect your e-bike and its battery by using lots of extra-dense foam padding.

Pack your e-bike into a large and sturdy box rated for e-bikes such as the

BikeFlights Bike Box Large (BBL)

.

Completely remove all bulk shipping hazmat markings such as the Class 9 sticker and UN3480 sticker.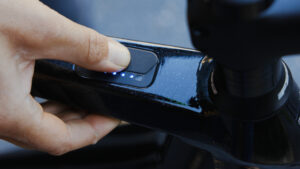 As an e-bike shipper, you must also still follow best practices for packing a bike. BikeFlights offers lots of resources for you to learn how to do exactly that, or you can use their Bike Shop Finder to hire a pro to pack your bike for you.
After you've taken care of your packing, accurately measure and weigh your bike box, and book your e-bike shipment just like you would book a standard bike shipment on BikeFlights.com. Be sure to select "Complete E-bike With Battery Installed" as the contents of your shipment, and purchase Premium Protection sufficient to cover the current market value of your bike. Don't forget to schedule a pickup, or plan to drop your e-bike off at a nearby UPS Customer Center. 
You'll get your labels within a few minutes of booking; just print and securely attach them. Then sit back, relax and enjoy your travel knowing that your bike will be waiting for you upon arrival.
For more information about e-bike shipping, visit https://www.bikeflights.com/e-bike-shipping, or watch our e-bike shipping video: https://youtu.be/z3X1DFIsZ7g.