I a
m a musician, so not much employment for us during these pandemic year(s). 
Rather than wait around for our jobs as musicians to return, I have been riding around the Netherlands. Dedicated bike lanes, good signage, aware motorists, and LOTS of secluded nature trails are just some of the perks.
I am using The Hague as a base, and I ride all over the place; to Rotterdam, Delft, up to Haarlem, south along the coast. Today I just let the bike take me where it wants to go. It is always an adventure, and I come across some interesting people and stuff, all the while following safety protocols such as social distancing. It feels like being on a bike is about the safest place to be in a pandemic.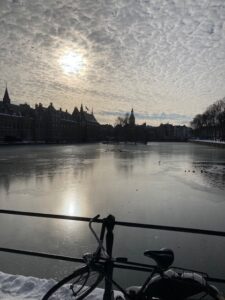 One of my favorite rides was to Leiden, where the English pilgrims lived for many years before pushing on to settle in the New World. They may well have stayed in Leiden; had not their leader been concerned about the Dutch tolerance rubbing off on his flock. You may have heard that recently the Dutch government collapsed. So, the Prime Minister got up the next morning, rode his bike to the King's house, and formally resigned. Evidently the Prime Minister agreed to stay in office until the next election takes place. That is the Dutch version of political chaos. Refreshing.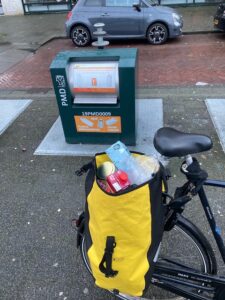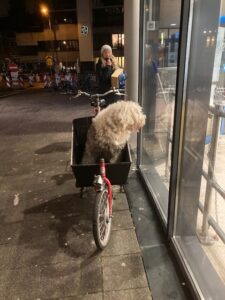 The bicycle is integrated into daily life so much in the Netherlands that some folks do not consider it a form of exercise. I do chores, like recycling and grocery shopping, all by bike. There is free monitored bike parking under the railway station, and you can take your bike on the train as well (the trains run on energy generated by wind). I have not driven a car for three months, and I don't miss it a bit.
Curfew is  from 9:00 PM until 4:30 AM daily, to discourage large gatherings and parties. It seems
to be effective, as the numbers of Covid infections are going down. It is honestly not a big deprivation, but some folks are frustrated and take to the streets to protest by throwing snowballs and rocks at the police. Bike shops are considered an essential service so they remain open, while most stores are closed indefinitely. Most people get paid 90% of their normal salary by the government, so there is not the specter of massive unemployment and economic chaos that we have seen in America.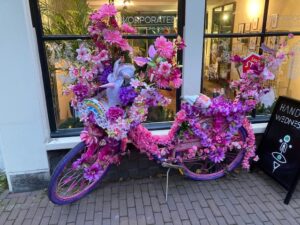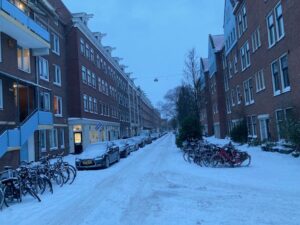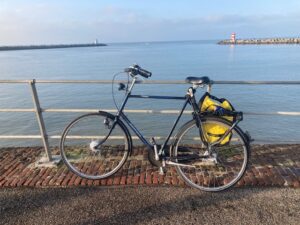 Clearly, we have a lot to learn from this culture. One new friend just celebrated her 80th birthday, and she gets around by bike, which is not unusual here.
Stay safe, and have wonderful rides!
Contributor: Allen Biggs