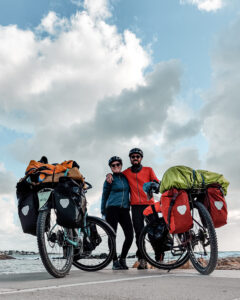 Spring 2019. We make the decision to make a big trip next year, but this time by bike. The 1st of April 2020 is marked in our agendas, until then we will enjoy our Belgian lives and friends to the fullest and save money for our bike trip.
While searching the right gear, discussing places to visit, we stumbled upon an entire new platform for us, called Warmshowers. We exchanged thoughts with experienced bikers and we soon realised, this is something for us!! To be honest, the use of the application is strange and slow in the beginning, but with some patience you get used to it. We could not wait to meet all these amazing people on the road! Little did we know…
COVID took over the world and we couldn't decide otherwise, then to stay at home longer before starting our trip. When the beginning of June looked better again, we did a try-out trip to Germany and also used Warmshowers for the first time.
We were very nervous, because who with it's right mind would invite strange people over to stay at their place in these strange times. More so, who would share a meal with us crazy bikers? Turns out, a lot! 
Even in our own country, we met a few very nice open-minded people. The trip to Germany was great and we decided then, let's start our 2 year trip in September. We could not wait any longer and Warmshowers was so eye opening and felt heartwarming.  More than we could imagine.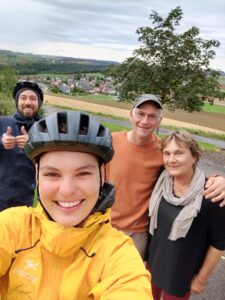 We cycled through Belgium, Luxembourg, France, Italy and now in Switzerland. To be true, cycling in COVID times has its challenges and downsides. We had to change our route more than we wished for and will probably spend winter time in one place now that Europe turns crazy again. But only in these 6 weeks we have met some amazing people, a lot of them through Warmshowers.
The heartwarming Luxembourg stay where this guy had the craziest painting skills, our French host that moved heaven and earth just to be able to host us, the many French Croissants and coffees we drank, the stay with a Swiss pastor for 2 days.  We could keep going!
When COVID got worse in France again, we had to change our route and go through Switzerland. Our first thought: "Help, our budget!!". The country is known for high prices and honestly, we just wanted to cycle through it in 3 to 4 days and get it over with for our budget. 
On our 2nd day, we arrived with our Warmshowers hosts in Biel. A nice couple that had lots of experience with a one year trip through Europe themselves, welcomed us into their home. After many days of camping, we suddenly had an entire apartment floor for ourselves, just brilliant! 
We had a lovely first night together and they suggested to stay a second night. We needed a rest day and they were so warm and friendly, we could not refuse. They made a beautiful hiking route for our rest day and in the second evening we cooked some spaghetti for them.
We felt at home and they gave so much tips for their country. They helped us make a route for Switzerland and convinced us to explore their country. 4 Days in La Suisse became 2 weeks, all thanks to them. They even arranged a sleeping place at their parents on the route!!
We are loving Warmshowers and thanks to all amazing people out there for helping us and being open to meet us in these times. If you love cycling, if you love people… don't postpone your travel plans, just be wise and change them. Plenty of people out there who proof that life is special every day!! 
Cheers!
Stefanie and Niels from Belgium