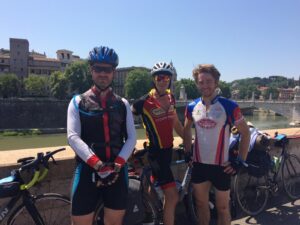 Last summer, four of us cycled from North of Milan to Rome.  Although there were four on our trip, we did a rider-swap in Florence, so there were only three of us at any one time. We identified our start and finish points and then plotted the most attractive route.  Research showed that we could follow Eurovelo routes 5, 8 and 7, but Warmshowers would mean that we might have to deviate from that occasionally.
Before we carefully mummified our bikes in foam and bubble wrap and packed them into cardboard boxes, we knew we had three consecutive days of Warmshowers hosts. After a night at an Airbnb in Vaznaghello, we cruised down through Lombardy.  We entered Milan riding beside the tranquil Niviglio Grande canal, but after lunch a navigational anomaly found us briefly on a motorway.
We were hosted in Cremona that evening by Enrico and his baby son.  After showering, we sat in the courtyard eating, drinking, and chatting until the sun went down before retiring to our tightly pitched tents. 
After a dramatic alarm call from the adjacent church bells and a relaxing breakfast, facing 40 degree heat all day, we continued to roll on across the flat, featureless landscape, thankful that Italy was generous with water fountains. 
Roberto was our host in Quistello that evening, whose only ask was that we bring wine and dessert. After another hearty dinner, which was perfect for hungry cyclists, he took us to the local Festival of Sports with his family.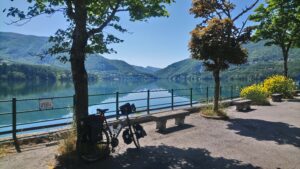 Before we left in the morning, we had to graffiti the wall in his house and sign the guestbook.  By then, Roberto and Family had hosted over 100 times. Incredibly that spring, I had hosted a guest that they had. By departure time, the temperature was already climbing, and for the first time in three days, so were we.
Giuseppe was our host near Riola, where the plains gave way to the jagged Apennines. We only hit the climbing late in the day.  Ultimately the relentless climbing was forgiven for the beautiful views we were treated to at the top. We soon found that our biggest climb was to Giuseppe's house. We were late, one man down (who'd lost his wallet and gone looking for it) and it was dark. Giuseppe spoke little English, but was a remarkable and kind host and we sensed he had been on plenty of adventures of his own.
Our missing friend re-joined us late in the evening and by daylight we realised what a beautiful location we were in.  It was dramatic and inspiring, but we had to move on. Our Warmshowers had dried up as we went through less well trodden areas and had to use campsites as far as Rome. The scenery changed yet the thrill and hospitality never wavered.  Our hosts always gave us more than we needed; they gave us friendship too.
We have plans to tour again this year.  We know it's unlikely but we also know the routes and the places will always be there and we hope the hosts will be too.